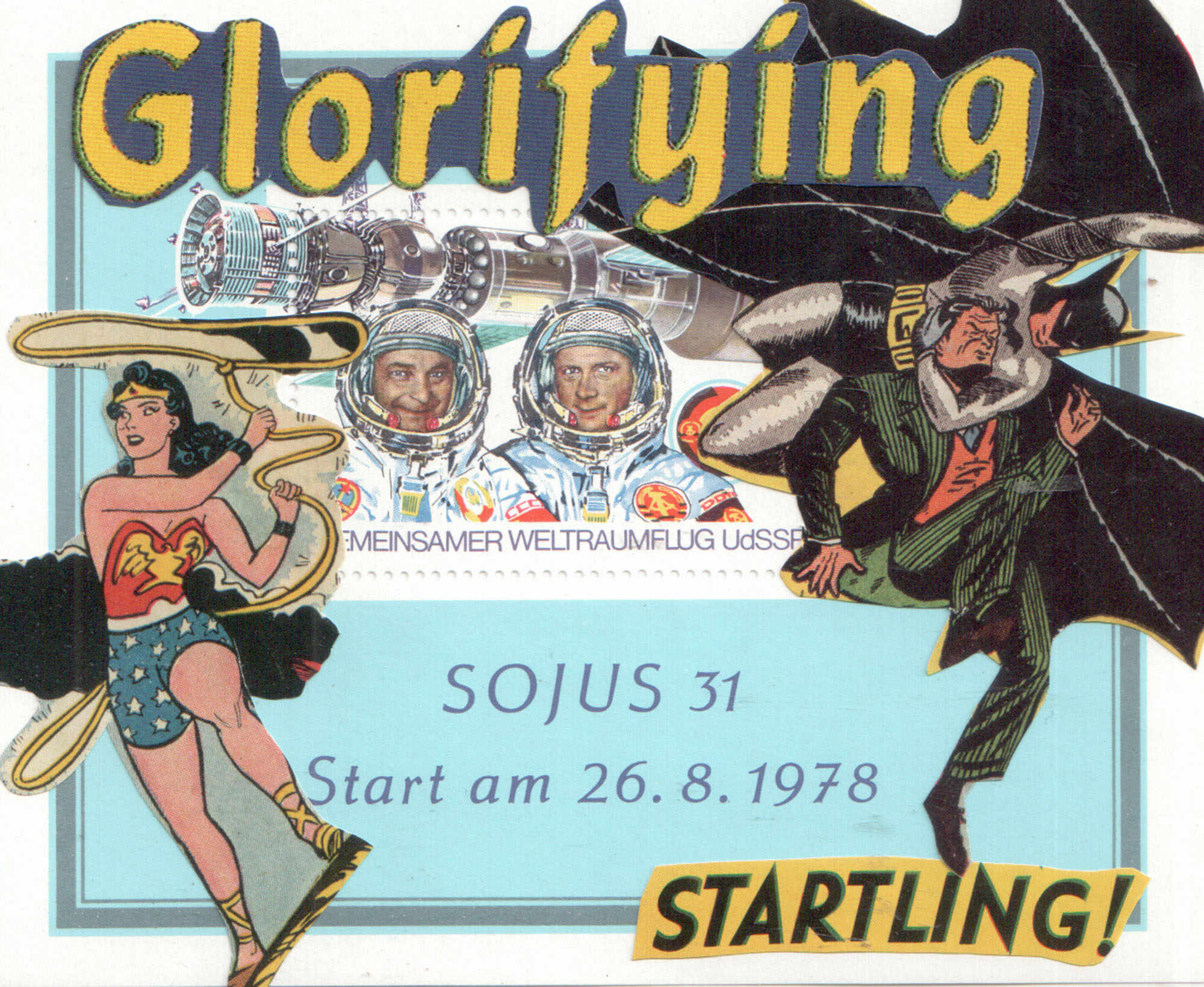 Die Aufrufe von Special Agent Collage Collective SACC unter der Leitung von Andrea Lewicki sind immer ein großer Spaß.
Dieses Mal lautet die Mission #12: Philatelistische Collage, Mikroskala.
"Eure Aufgabe ist es, eine Collage auf einer Briefmarke zu erstellen. Das bedeutet eine winzige Collage. Pinzetten und große Briefmarken könnten deine besten Freunde für diese Aufgabe sein. Nur Bild-Upload. Sie behalten die Original-Collage. Neue Briefmarken, alte Briefmarken, übereinanderliegende Briefmarken, das ist egal, nur die Grundfläche der Collage muss innerhalb der Grenzen einer einzigen Briefmarke liegen."
Mein Beitrag zu einer Sondermarke anlässlich des gemeinsamen Raumfluges der UdSSR und der DDR, Sojus 31, Start am 26.8.1978
Diese Sondermarke habe ich in meinem Briefmarkenalbum gefunden – auf der Suche nach einer passenden Marke für den aktuellen Aufruf des SACC.
english version:
The calls of Special Agent Collage Collective SACC, running by Andrea Lewicki, are always great fun.
This time the Mission is #12: Philatelic Collage, Microscale.
"Your mission is to create a collage ON a postage stamp. This means a tiny collage. Tweezers and large stamps might be your greatest friends for this mission. Image upload only. You keep the original collage. New stamps, old stamps, layers of stamps, it doesn't matter except the footprint of the collage must be within the boundaries of a single stamp."
My contribution on an special stamp on the occasion of the joint space flight of the USSR and the GDR, Soyuz 31, launch on 26.8.1978
I found this special stamp in my stamp album – looking for a suitable stamp for the current call of SACC.