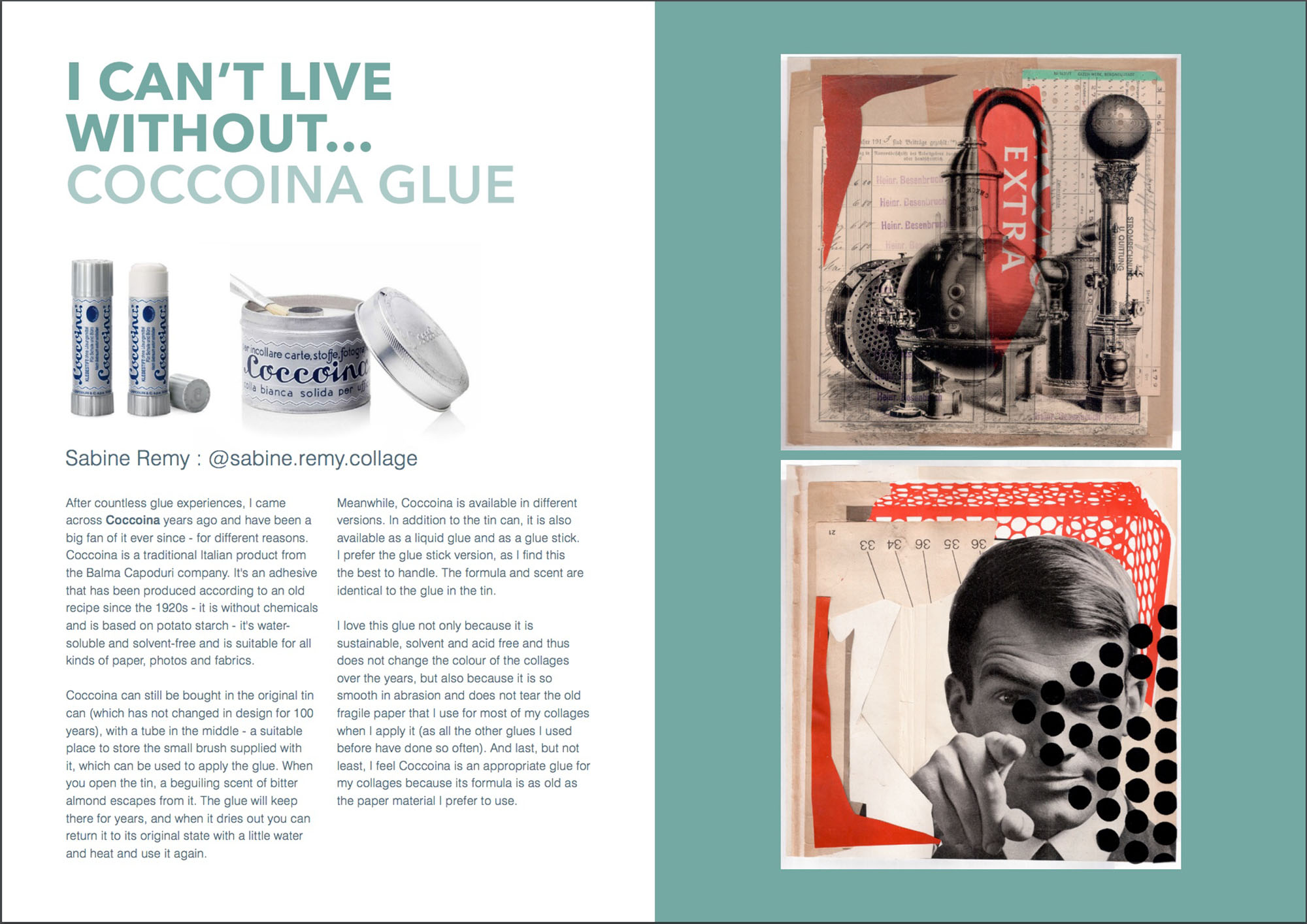 Ich bin ganz schön im Rückstand – sorry! Aber hier endlich mein besonderer Dank an  Les und Molly Jones für die Aufnahme in ihr fantastisches ContemporaryCollageMagazine #7 und für die Veröffentlichung meines "Werbeblogs" für meinen Lieblingskleber Coccoina sowie zwei meiner Collagen.
ContemporaryCollageMagazine ist ein monatliches Online-Zine – hochinteressant und immer aktuell – alles, was das Herz eines Collagisten bewegt. Also – check den Link und hol Dir Dein eigenes Exemplar! (unbezahlte Werbung)
Nun noch einmal mein Text in Deutsch:
"Ich kann nicht ohne leben" –  einem Coccoina Kleber.
Nach unzähligen Klebstofferfahrungen bin ich vor Jahren auf Coccoina gestoßen und seitdem ein großer Fan davon – aus unterschiedlichen Gründen.
Coccoina ist ein italienisches Traditionsprodukt der Firma Balma Capoduri und ein Klebstoff, der seit den 1920Jahren nach der alten Rezeptur hergestellt wird – ohne Chemie, auf Basis von Kartoffelstärke, wasserlöslich und lösungsmittelfrei. Er eignet sich für Papiere aller Art sowie Fotos und Gewebestoffe.
Coccoina kann man noch immer in der seit 100 Jahren in der Ausführung nicht veränderten Blechdose kaufen, in deren Mitte ein Röhrchen steckt – ein geeigneter Aufbewahrungsort für den mitgelieferten kleinen Pinsel, mit dem der Klebstoff aufgetragen werden kann. Öffnet man die Dose entströmt ihr ein betörender Duft nach Bittermandel. Der Kleber hält sich dort über Jahre, und wenn er austrocknet kann man ihn mit etwas Wasser und ein wenig Wärme wieder in seinen Ursprungszustand zurückversetzen und wieder verwenden.
Mittlerweile gibt es Coccoina in unterschiedlichen Ausführungen. Neben der Blechdose gibt es ihn auch als Flüssigkleber und als Klebestift. Ich bevorzuge die Klebestiftvariante, da ich diesen am besten handhaben kann. Rezeptur und Duft sind mit dem Klebstoff in der Dose identisch.
Ich liebe diesen Kleber nicht nur, weil er nachhaltig, lösungsmittel- und säurefrei ist und somit die Collagen über die Jahre farblich nicht verändert, sondern auch, weil er im Abrieb so geschmeidig ist und das alte, fragile Papier, dass ich für meine Collagen überwiegend benutze, beim Auftragen nicht zerreißt (wie es all die anderen Klebstoffe, die ich vorher benutzte, schon so häufig getan haben). Und nicht zuletzt empfinde ich Coccoina als angemessenen Klebstoff für meine Collagen, weil seine Rezeptur er so alt ist wie das Papiermaterial, das ich am liebsten nutze.
(völlig freiwillige und unbezahlte Werbung für den meiner Meinung nach besten Papierkleber der Welt für Collagisten).
english version:
I'm way behind – sorry! But here at last, my special thanks to Les and Molly Jones for including me in their fantastic ContemporaryCollageMagazine #7 and for publishing my "promotional blog" for my favorite glue, Coccoina, as well as two of my collages.
ContemporaryCollageMagazine is a monthly online zine – highly interesting and always up to date – everything that moves a collagist's heart. So – check out the link and get your own copy! (unpaid advertising)
Now once again my text in English:
"I can't live wihtout" a Coccoina glue.
After countless glue experiences, I came across Coccoina years ago and have been a big fan of it ever since – for different reasons.
Coccoina is an Italian traditional product of the Balma Capoduri company and an adhesive that has been produced according to the old recipe since the 1920s – without chemicals, based on potato starch, water-soluble and solvent-free. It is suitable for all kinds of paper, photos and fabrics.
Coccoina can still be bought in the tin can, which has not changed in design for 100 years, with a small tube in the middle – a suitable place to store the small brush supplied with it, which can be used to apply the glue. When you open the tin, a beguiling scent of bitter almond escapes from it. The glue will keep there for years, and when it dries out you can return it to its original state with a little water and a little heat and use it again.
Meanwhile, Coccoina is available in different versions. In addition to the tin can, it is also available as a liquid glue and as a glue stick. I prefer the glue stick version, as I find this the best to handle. The formula and scent are identical to the glue in the tin.
I love this glue not only because it is sustainable, solvent and acid free and thus does not change the color of the collages over the years, but also because it is so smooth in abrasion and does not tear the old fragile paper that I use for most of my collages when I apply it (as all the other glues I used before have done so often). And last but not least, I feel Coccoina is an appropriate glue for my collages because its formula is as old as the paper material I prefer to use.
(totally voluntary and unpaid promotion of what I consider the world's best paper glue for collagists).