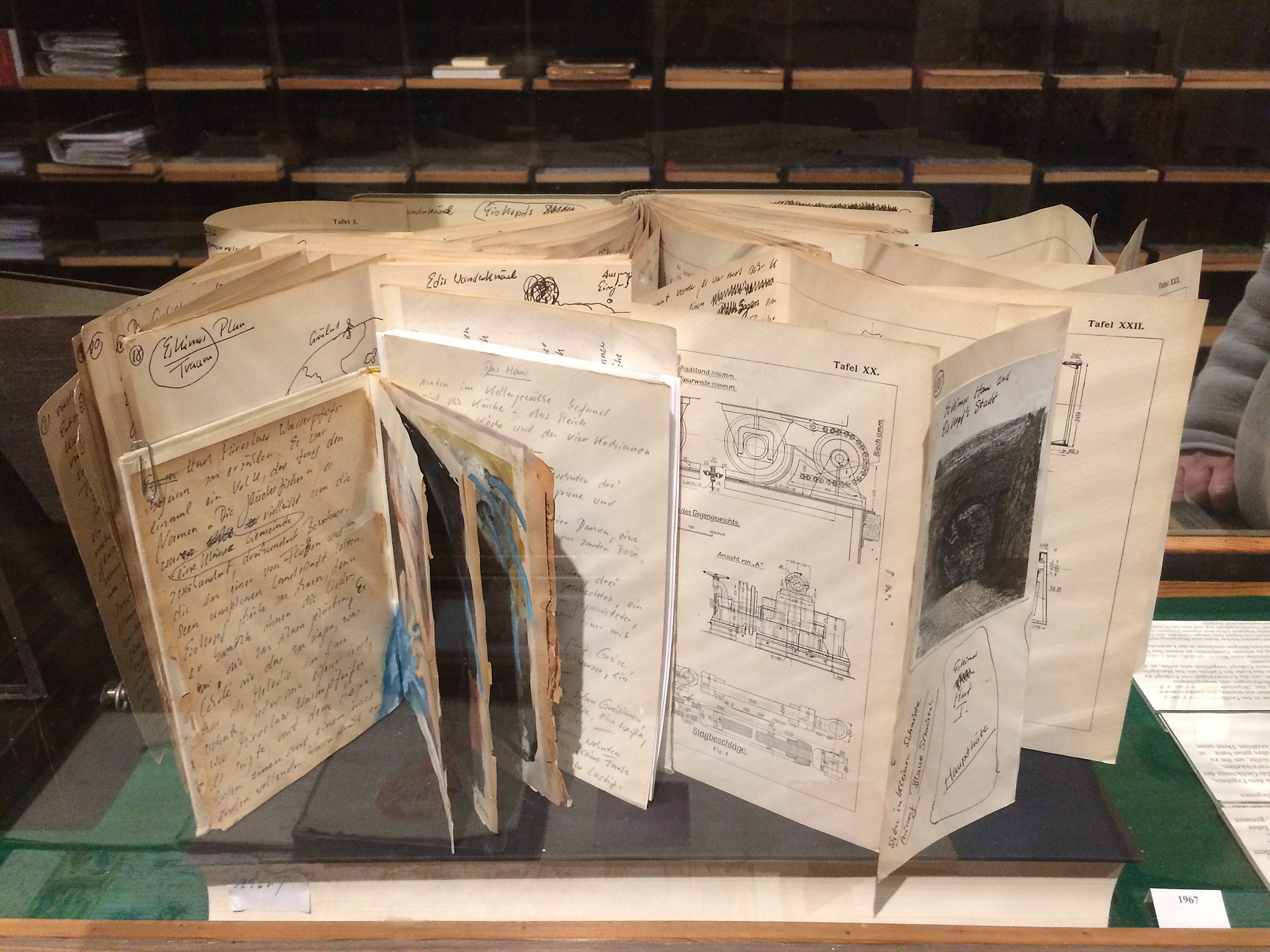 Im Osthaus Museum Hagen befindet sich auch Sigrid Sigurdssons "Die Architektur der Erinnerung" – Das Museum im Museum. Eine ausführliche Beschreibung der Architektur der Erinnerung kann man auf ihrer homepage nachlesen.
Der gesamte bibliotheksähnlichen Raum beinhaltet verschiedene Werkgruppen der Künstlerin, u.a. folgende:
- "Vor der Stille" umfasst eine Sammlung von Büchern, Briefen, Fotografien … die sich mit der Zeit des Nationalsozialismus beschäftigen.
- "Einen weiteren Komplex der Arbeit bilden 800 so genannte Reisebücher, die seit 1993 von interessierten Besucherinnen und Besuchern für eine bestimmte Zeit ausgeliehen und nach eigenen Vorstellungen gestaltet werden können. Nach Ablauf der Zeit sollen die Bücher wieder an die "Architektur der Erinnerung" zurückgegeben werden. Dort sind sie in den offenen Fächern einer Regalwand untergebracht und können auf Wunsch herausgenommen und betrachtet werden. Ca. 600 Autorinnen und Autoren aus aller Welt sind bislang an dem Projekt beteiligt." (Martina Pottek – Quelle)
- "Die Mitte des Raumes wird von zwei alten, musealen Vitrinenschränken dominiert, in denen 366 Bücher und Objekte aus dem Geschichten-Zyklus "Das Wunderknäuel" ausgestellt sind, an dem die Künstlerin seit 1961 arbeitet."  (Martina Pottek – Quelle)
Sehr inspirierend – für alle Buchkünstler – und einen Besuch absolut wert!
english version:
At Osthaus Museum Hagen are also The Museum inside a Museum -"The Architecture of Memory"-  a room, looking like a library, created by  Sigrid Sigurdsson. There is a detailed description of it on here homage – but only in German – and my English is too bad to translate it – sorry for that. But in my words I can say there are different group of works, including for example documents from the area of the National Socialism ("Before the Silence") as well as 800 so called traveling books created by more than 600 different artists, which you can browse through, and 366 books and objects from Sigurdsson´s work "Wonder Bundle".
The room has a very special and storytelling atmosphere and it´s fantastic to browse through the artist books. This visit was absolutely worth it and very inspiring for all book artists!