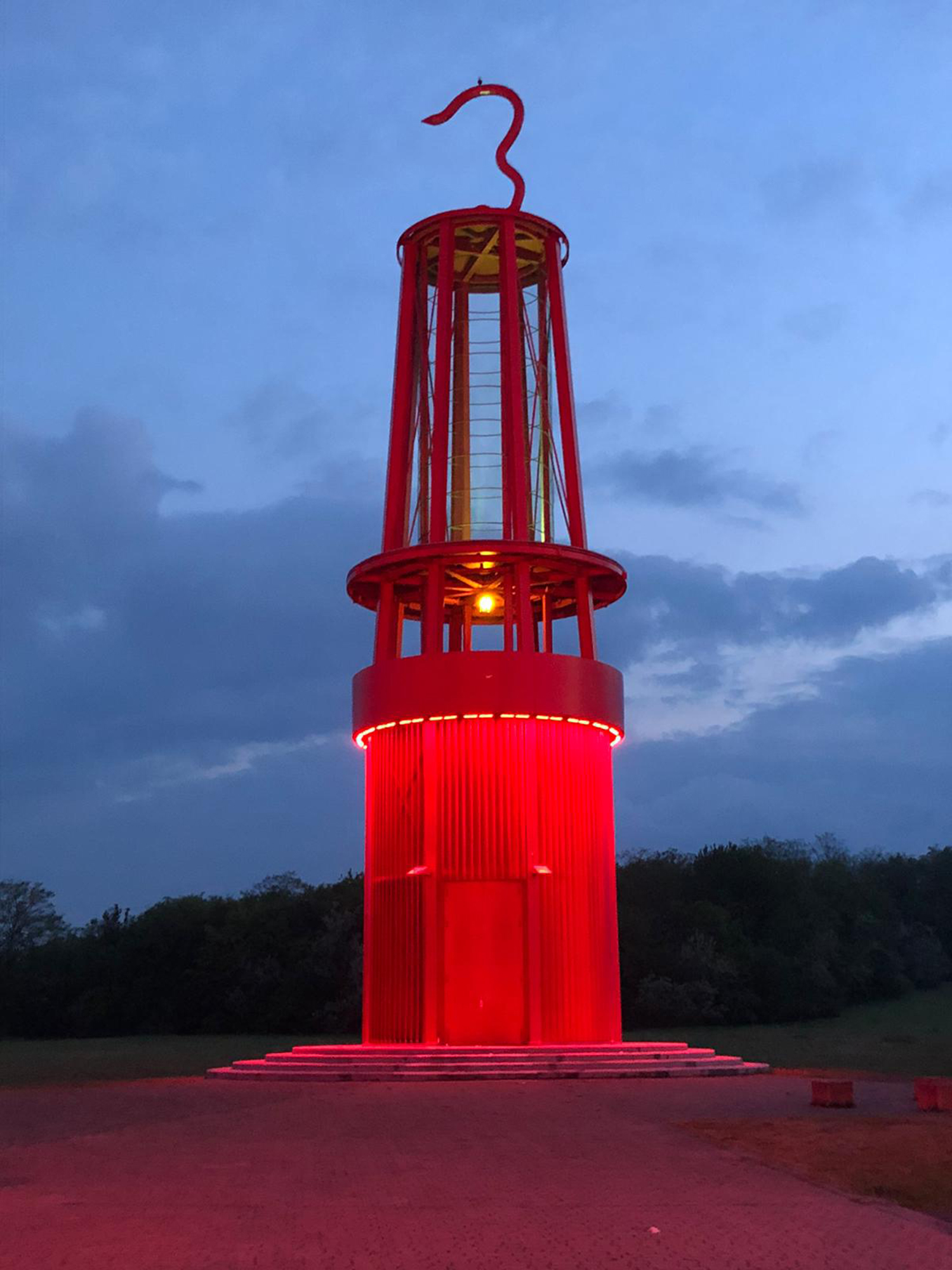 "Im nordrhein-westfälischen Industriegebiet entstanden in den letzten Jahrzehnten zahlreiche von renommierten Künstlern gestaltete Landmarken. Eine [… von ihnen … ] befindet sich auf der Halde Rheinpreussen in Moers-Meerbeck. Der Künstler Otto Piene
entwarf für diesen am Rhein vor einer imposanten Industriekulisse gelegenen Standort "Das Geleucht"." (Quelle)
In der Zeit von 1963 bis 1990 wurden 42 Millionen Tonnen Bergematerial aus der Rheinpreussen Schachtanlage V/IX aufgeschüttet, wodurch die 72 Meter hohe Halde entstand. Lange Zeit lag sie brach. Otto Piene stellte 1999 im Rahmen der IBA Landmarken Kunstausstellung in Oberhausen zum ersten Mal seine Projektidee des Geleuchts vor – 2007 wurde es feierlich eingeweiht. "Das Geleucht" ist eine künstlerisch stilisierte Grubenlampe und "eine Hommage an alle Berg- und Hüttenleute an Rhein und Ruhr." (Quelle)
Tagsüber ein interessantes Ausflugsziel, mit Spazier-, Radfahr- und Picknickmöglichkeiten, einem beeindruckenden Ausblick auf die Industrielandschaft – vor allem von der im Geleucht befindlichen Aussichtsplattform (die aus bekannten Gründen zur Zeit leider geschossen ist).
Abends ein wahres Lichtspektakel, denn nicht nur das Geleucht selbst ist von innen beleuchtet sondern 35 kegelförmig angeordnete Leuchtmasten strahlen die Halde täglich ab Beginn der Dunkelheit (April – Oktober bis 23 Uhr / November bis März bis 21 Uhr) an und tauchen alles in rotes Licht. Ich selbst habe das leider nicht gesehen, es wurde mir aber ausführlich berichtet und die Fotos wurden mir zur Verfügung gestellt. So angestrahlt ist die Landmarke von weither sichtbar.
Das ist wirklich einen Ausflug wert.
Wer einmal in der Gegend unterwegs ist, kann sich noch viele andere Landmarken anschauen – hier gibt es eine kleine Highlight-Auswahl. Ich habe mir die ein oder andere über die Jahre bereits angeschaut – und jede ist auf ihre Art und Weise sehenswert.
english version:
"In the industrial area of North Rhine-Westphalia, numerous landmarks designed by renowned artists have been created in recent decades. One [… of them … ] is located on the Rheinpreussen slagheap in Moers-Meerbeck. The artist Otto Piene designed "Das Geleucht" for this site located on the Rhine against an imposing industrial backdrop." (source)
Between 1963 and 1990, 42 million tons of tailings from the Rheinpreussen V/IX mine were piled up, creating the 72-meter-high slag heap. For a long time it lay fallow. Otto Piene first presented his project idea of the Geleucht in 1999 as part of the IBA Landmarken art exhibition in Oberhausen – it was ceremoniously inaugurated in 2007. "Das Geleucht" is an artistically stylized miner's lamp and "a tribute to all miners and smelters on the Rhine and Ruhr." (source)
During the day, an interesting excursion destination, with walking, cycling and picnic opportunities, an impressive view of the industrial landscape – especially from the viewing platform located in the Geleucht (which is unfortunately shot at the moment for known reasons).
In the evening a true light spectacle, because not only the Geleucht itself is illuminated from the inside but 35 cone-shaped light masts illuminate the slag heap daily from the beginning of darkness (April – October until 11 pm / November to March until 9 pm) and bathe everything in red light. Unfortunately, I did not see this myself, but I was told about it in detail and the photos were made available to me. Thus illuminated, the landmark is visible from afar.
It is really worth a trip.
If you are ever in the area, you can see many other landmarks – here is a small highlight selection. I have already looked at one or the other over the years – and each one is worth seeing in its own way.