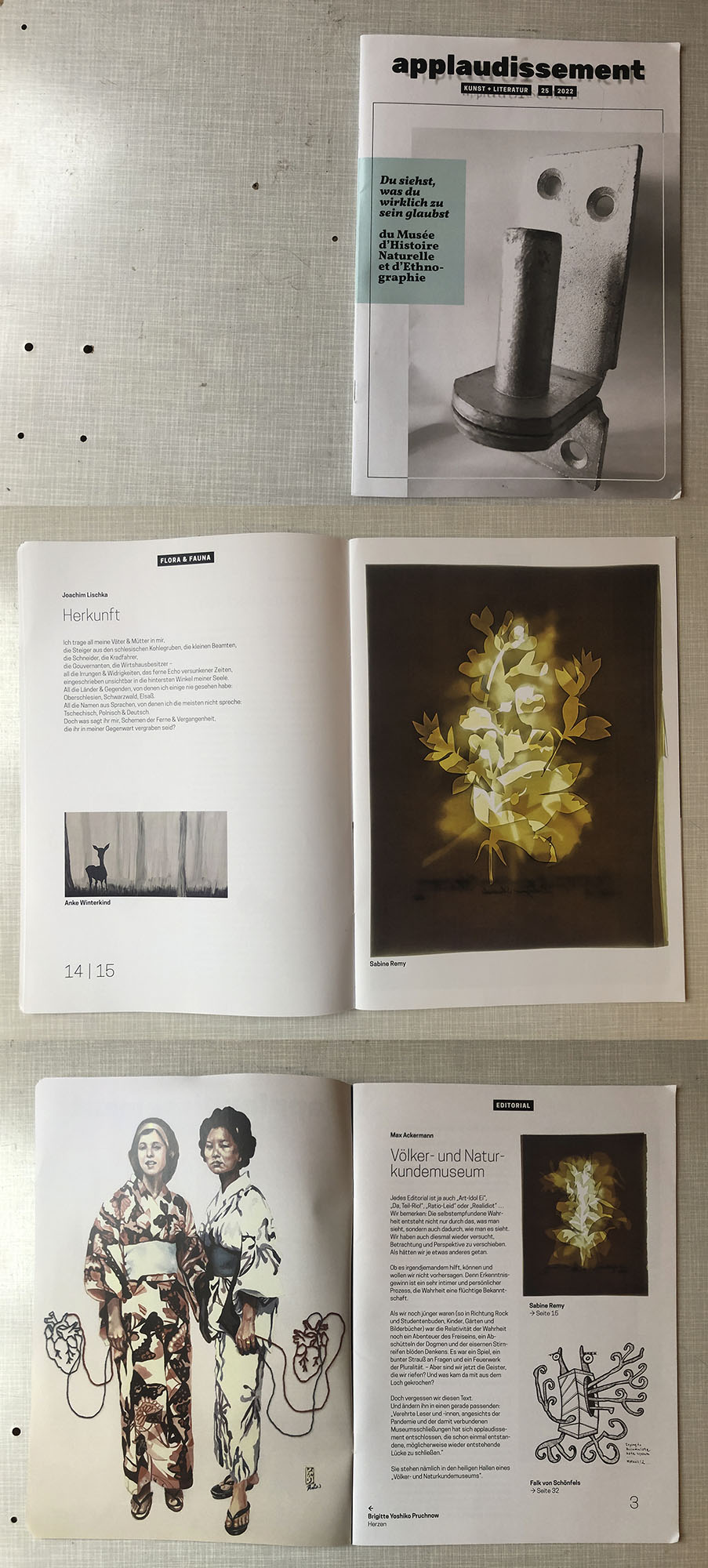 Ich freue mich sehr, erneut mit zwei Arbeiten in "Applaudissement" vertreten zu sein – ein Magazin zu den Themen Kunst und Literatur, Nr. 25/ 2022 – herausgegeben von Bernhard Rusch und auch über ihn zu beziehen. Besten Dank, Bernhard, dass ich wieder dabei sein durfte!
(unbezahlte Werbung)
Meine beiden Arbeiten sind Teil der Serie "Where have all the flowers gone" von 2021. Hierzu habe ich Ausschnitte, die von einem Collageprojekt übrig blieben und aus einem Blumenstrauß-Buch stammen, verwendet und übereinander gelegt wodurch vielschichtige Arbeiten entstanden.
Mit Beiträgen von / with contributions from: Bernhard Rusch, Brigitte Yoshiko Pruchnow, Falk von Schönfels, Anke Winterkind, Stephan Sprang, Jessica Dettinger, Stefan Mayer, Ulli Schmeling, Max Ackermann, Joachim Lischka, Justin Koller, Ina Soléa, Dorothée Deppner, Karabin Oljoschin, Stan Lafleur, Christian Engelken, Thomas Höpfinger, Peter Adacker, Nikolai Vogel (I hope I have not forgotten anyone)
english version:
I am very pleased to be represented again with two works in "Applaudissement" – a magazine on art and literature, No. 25/ 2022 – edited by Bernhard Rusch and also available through him.
(unpaid advertisement)
Thank you very much, Bernhard, that I could be part of it again!
My two works are part of the series "Where have all the flowers gone" from 2021. For this I have used cutouts that were left over from a collage project and come from a bouquet of flowers book, and put on top of each other resulting in multi-layered works.