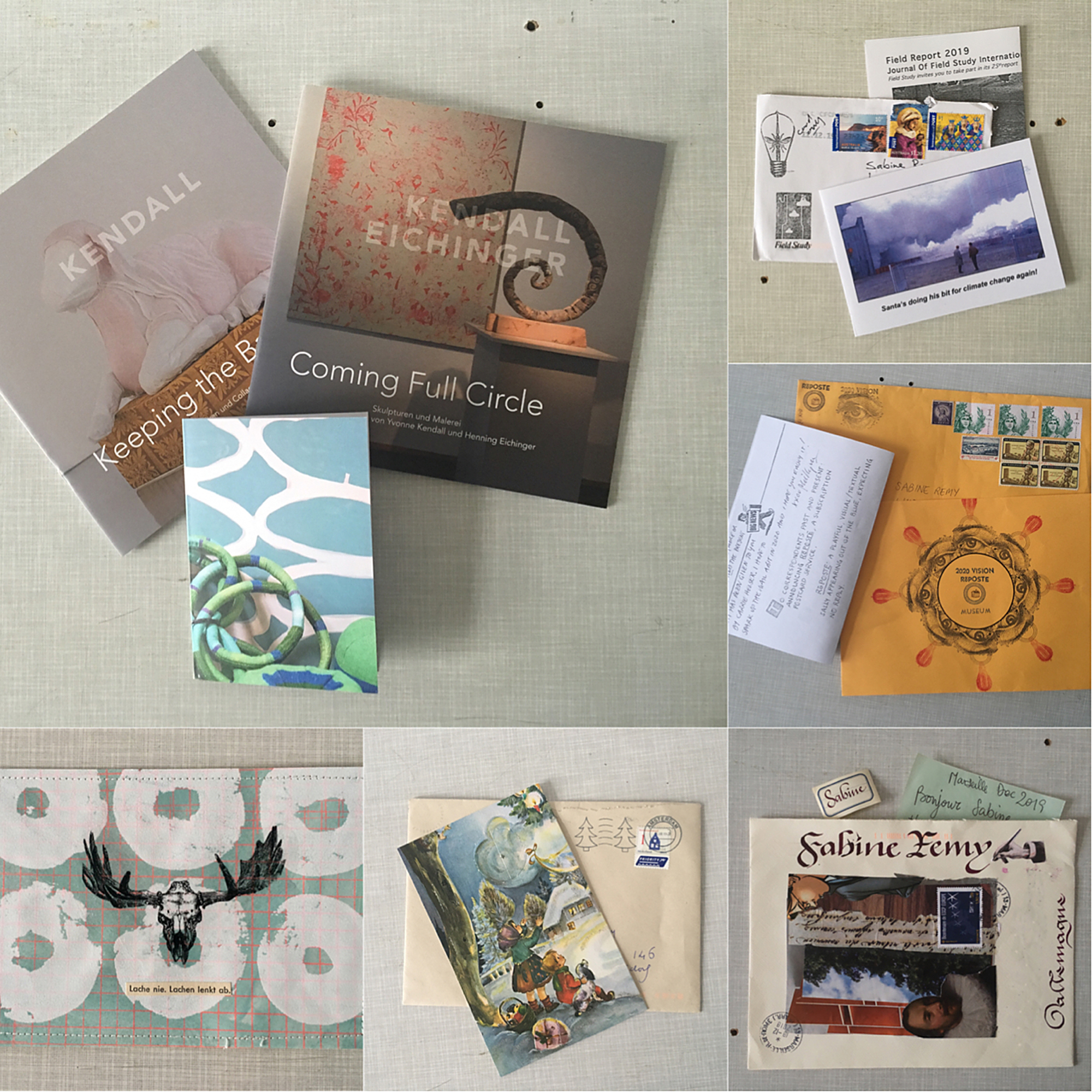 Im Dezember hat mich schöne Post von einigen Mail Art- und Kunstfreunden erreicht, über die ich mich sehr gefreut habe:
Henning Eichinger (D) und Yvonne Kendall haben mir zwei Kataloge geschickt, "Coming Full Circle" ist eine schöne Erinnerung an die Ausstellung in Hilden, die ich mir angeschaut habe und wo wir uns das erste Mal persönlich kennengelernt haben. Vielen Dank!
Reina Huges (NL) hat mir einen speziellen selbst kreierten Adventskalender geschickt – was für eine feine Idee! Besten Dank!
Frau Nahtlust (D) hat mir eine selbstgestaltete Weihnachtskarte geschickt. Das hat mich vor allem deswegen sehr gefreut, weil ich dieses Jahr meine online-Aktivitäten aus diversen Gründen sehr reduziert habe – dennoch hat sie an mich gedacht. Herzlichen Dank!
Carrie Helser (USA) hat mir ein ganz besonderes Weihnachtsgeschenk gemacht: Ihr Freund Willyum Rowe hat für das Jahr 2020 ein Kunst-Abonnement als eine Art Spendenaktion für sich selbst konzipiert: Jeder Abonnent erhält monatlich von ihm ein Original-Kunstwerk, das in dem eigens dafür gestaltete "Museums-Umschlag" aufbewahrt werden kann. Carrie hat ein Abo für mich gekauft. Ich bin ganz überwältigt von so viel Großzügigkeit – und sehr gespannt auf Willyums Mail Art!
Richard Baudet (F) und ich tauschen zum ersten Mal Mail Art aus – sein kalligraphisch gestalteter Briefumschlag ist eine Augenweide. Da er mir explizit erlaubt hat, seine Anschrift zu veröffentlichen, habe ich sie nicht wegretuschiert – meine allerdings sehr wohl, denn ein bisschen Privatsphäre möchte ich mir erhalten.
Von David Dellafiora (AUS) erhielt ich einen Weihnachtsgruß mit der Einladung verbunden, erneut an Field Study Report teilzunehmen, obwohl ich ein wenig spät damit dran bin. Das freut mich sehr. Herzlichen Dank!
english version:
In December I received nice mail from some mail art and art friends, which I was very happy about:
Henning Eichinger (D) and Yvonne Kendall have sent me two catalogues, "Coming Full Circle" is a nice memory of the exhibition in Hilden, which I looked at and where we first met in person. Thanks a lot!
Reina Huges (NL) sent me a special self-created Advent calendar – what a great idea! Many thanks!
Richard Baudet (F)  and I are exchanging Mail Art for the first time – his calligraphically designed envelope is a feast for the eyes. Since he explicitly allowed me to publish his address, I didn't retouch it – but I did, because I want to keep a bit of privacy.
Carrie Helser (USA) gave me a very special Christmas present: Her friend Willyum Rowe has designed an art subscription for the year 2020 as a kind of fundraiser for herself: Each subscriber will receive an original work of art from him each month, which can be kept in the specially designed "museum envelope". Carrie bought a subscription for me. I am overwhelmed by so much generosity – and very excited about Willyum's Mail Art!
Frau Nahtlust (D) sent me a self-designed Christmas card. I was especially pleased because this year I have reduced my online activities a lot for various reasons – nevertheless she thought of me. Many thanks!
I received a Christmas greeting from David Dellafiora  (AUS) inviting me to participate in Field Study Report again, although I am a little late with it. I am very pleased about that. Many thanks!