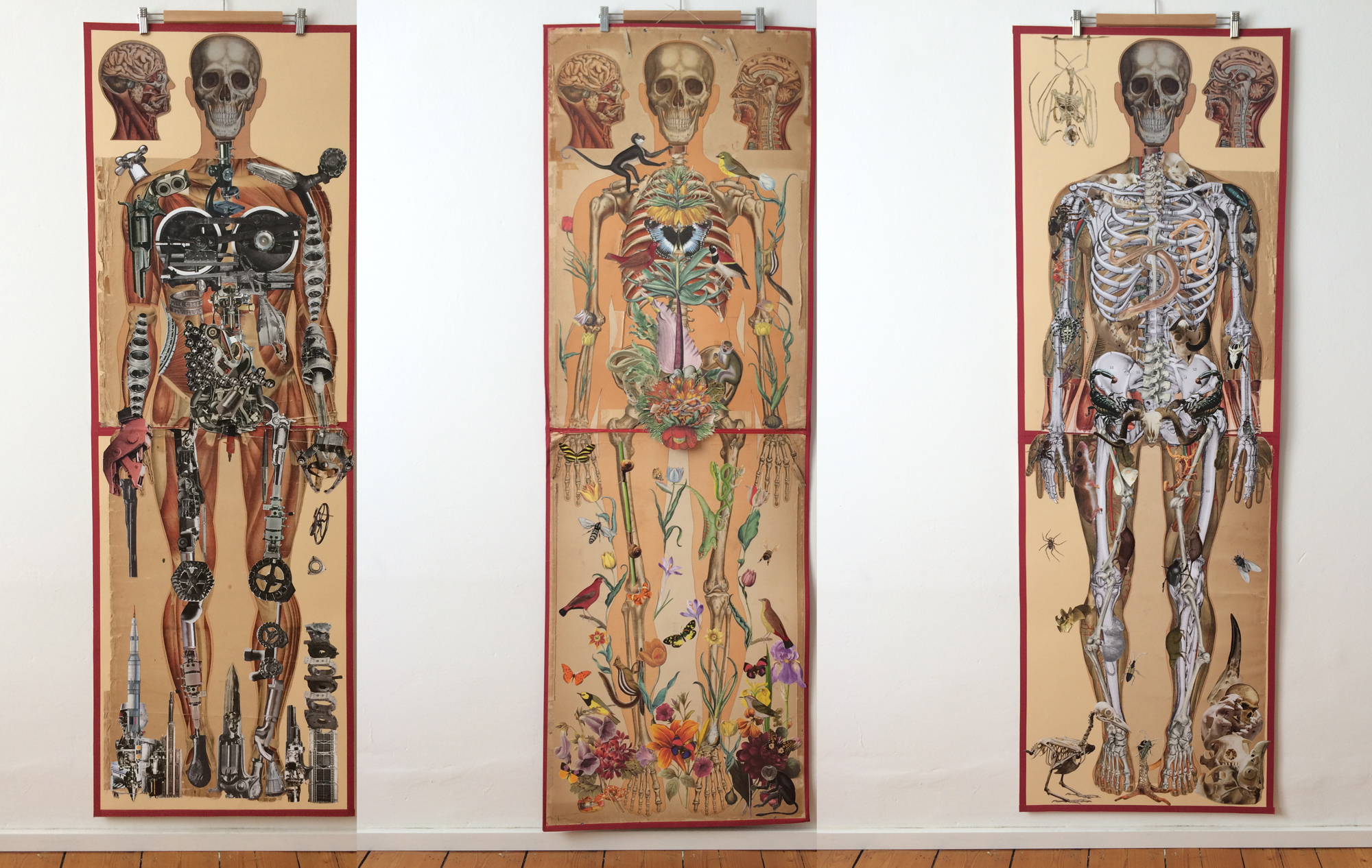 "Was sind wir? Maschinen? Tot? Oder voller Leben?"
"What are we? Machines? Dead? Full of life?"
Anatomische Triptychon – analoge Collage – jede Tafel 165 x 56 cm
Anatomical triptych – analogue collage – each panel 65 x 22 inches
Vor einer Weile habe ich eine alte anatomische Tafel im Internet gefunden. Nachdem sie mir zugeschickt wurde habe ich entschieden, daraus ein Triptychon zu machen – und die Reise began. Ich habe eine Menge Bilder zum Thema Leben, Tod, Maschinen gesammelt und ausgeschnitten – ich habe zwei neue Tafeln gemacht – ich habe den fehlenden Teil des Bauches für eine Tafel reproduziert – ich habe eine Menge Sprühkleber verbraucht und einige Meter Gewebeband für die "Rahmung" – und zu guter Letzt habe ich die Tafeln fertiggestellt. Eine so große Arbeit habe ich noch nie gemacht – und ich weiß auch nicht, ob ich das noch einmal machen werde – aber wir werden sehen.
Hier sieht man das Original – und hier einige Arbeitsschritte.
english version:
A while ago I found a vintage anatomical panel in the internet. After receiving it I decided to create a triptych – and the journey begun. I collected and cut plenty of images regarding the themes life, dead, machines –  I created two new panels  – I reproduced the missing part of one body – I used a lot of spray glue and some meters of fabric tape to "frame" them – and finally I finished the three panels! What a journey. I never made such huge collages – and I do not know if I would do it again – we will see.
Here you can see the original – and here the work in progress.