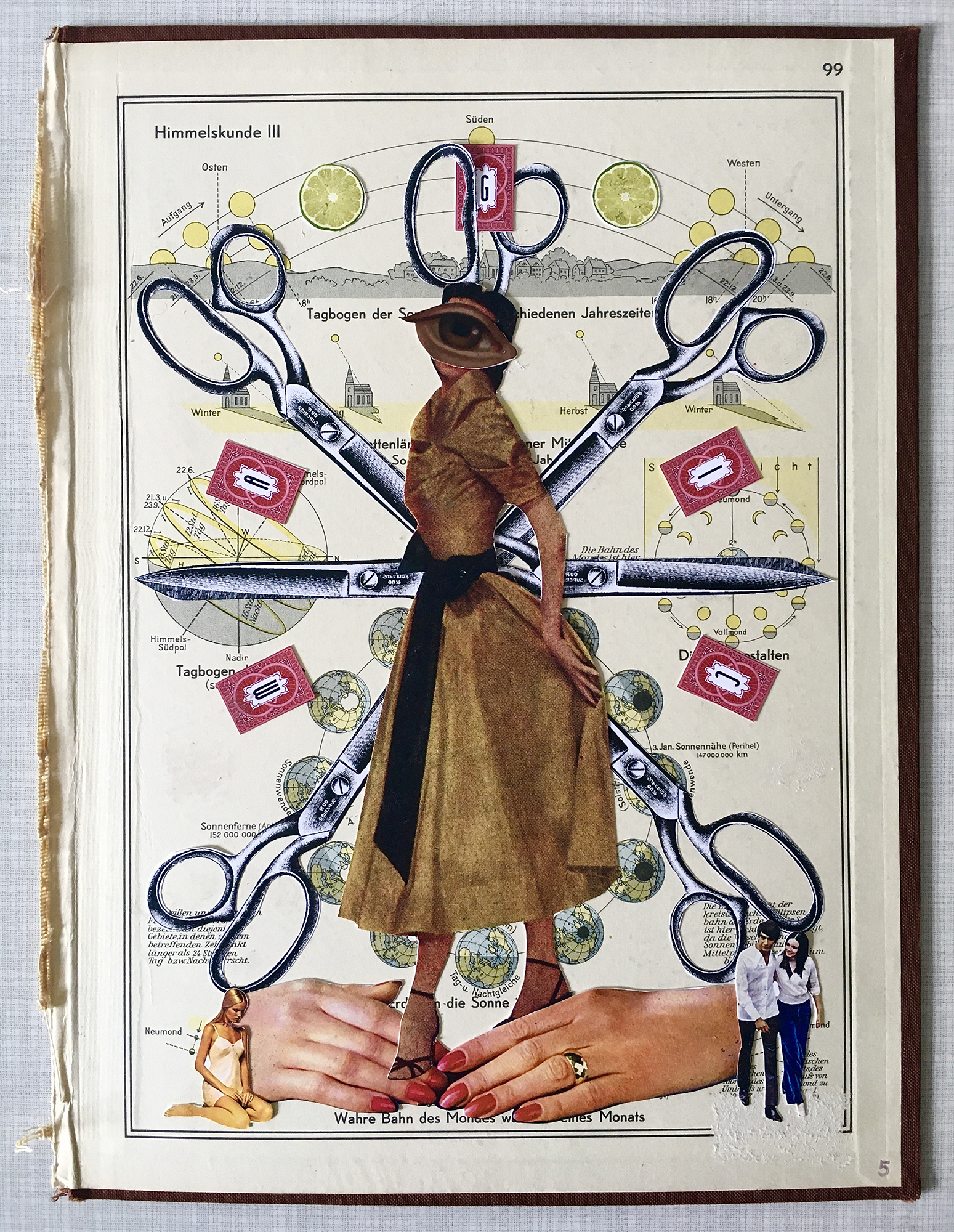 "Himmelskunde / Astronomy"
Collage on board / auf Buchdeckel 2020 – 30,5 x 22,7 cm
Mein Beitrag zu Emma Annas Cut-out-Challenge:
"Zur Unterstützung meines kürzlich erschienenen Collage-Kompendiums 'Collage Magic' lade ich Künstler aus aller Welt ein, neue Collagen aus einigen der Elemente, die auf dem Ausschnittbogen (siehe unten) zu finden sind, zu kreieren.
Zaubern Sie eine Collage aus mindestens zwei Elementen aus dem Collage Magic-Ausschnittsblatt. Kombinieren Sie diese mit Ihren eigenen Bildern, oder verwenden Sie alle diese Teile, um ein neues Bild/neue Bilder oder eine neue Erzählung mit dem Thema "Magie" zu erstellen.
Dieser Wettbewerb ist offen für analoge oder digitale Einsendungen, Animationen oder jede andere erweiterte Interpretation von 'Collage'.
Veröffentlichen Sie die Ergebnisse auf Instagram mit dem Hashtag #collagemagichappens oder markieren Sie mich in Ihrem Beitrag. Ich werde im Laufe des Juni eine ganze Reihe über meinen Instagram-Account veröffentlichen.
Und es gibt Preise!
Ende Juni werde ich vier Gewinner auf der Grundlage ihrer kreativen Wiederverwendung und Interpretation des Wettbewerbsthemas auswählen. Jeder von ihnen erhält eine signierte, originale Papiercollage aus meiner Serie "Zauberteppiche" aus dem Jahr 2020 und eine Auswahl kleiner Digitaldrucke aus "Das Tarot der goldenen Schere" sowie eine besondere, schwer zu beschreibende, aber auf jeden Fall wertvolle persönliche und handschriftliche Lesung.
Einen Link zum Herunterladen des Ausschnittsblattes finden Sie im Abschnitt "WETTBEWERBE" auf meiner Website www.emmaanna.com
Ich hoffe, Sie nehmen die Herausforderung an." (Quelle)
Übrigens: Den Buchdeckel hat mir vor langer Zeit Die Tauschlade geschenkt – es geht nichts verloren – erneut besten Dank!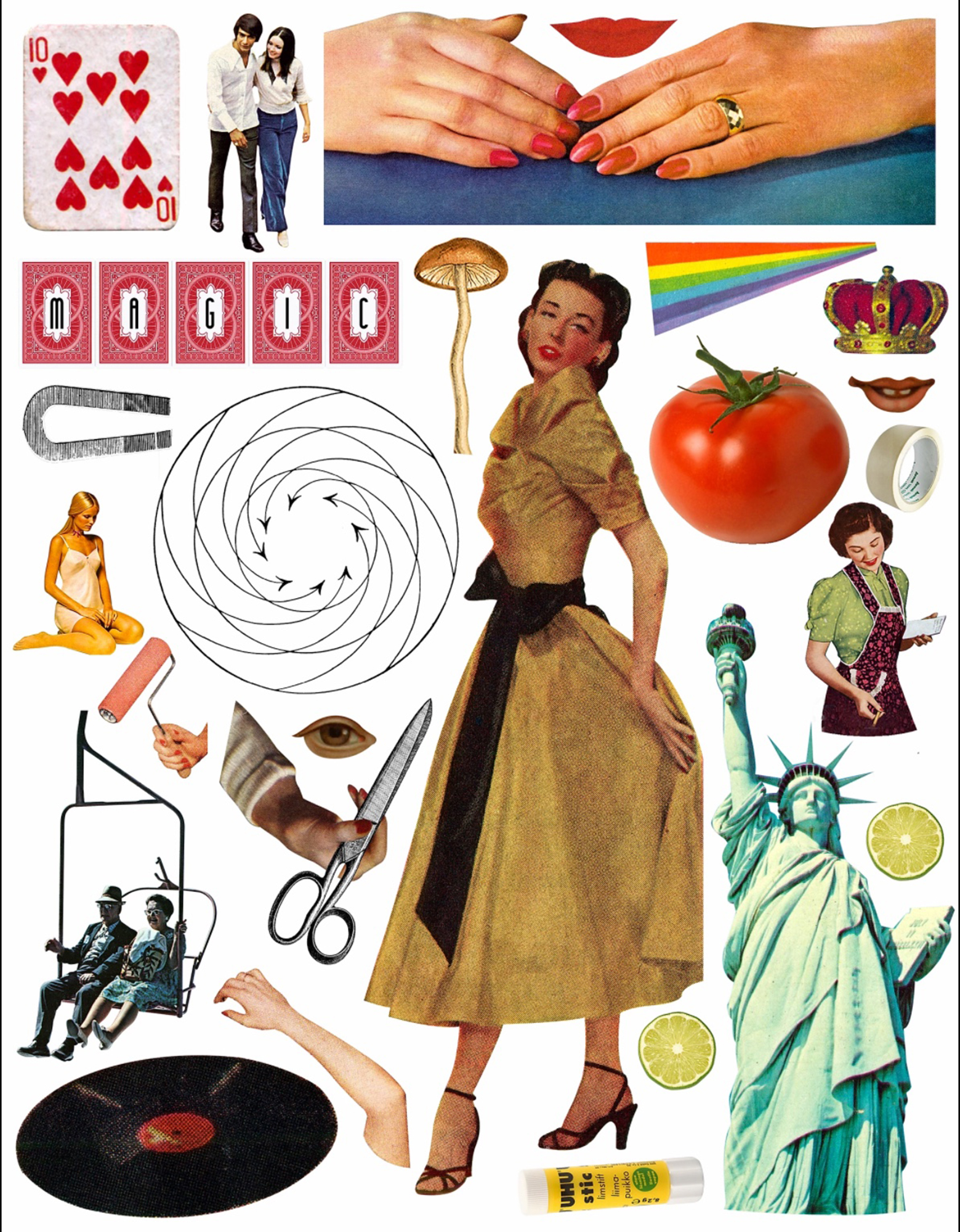 english version:
"Himmelskunde / Astronomy" (first image) is my contribution to Emma Annas Cut-out-Challenge:
"In support of my recently published collage compendium 'Collage Magic', I'm inviting artists from all over the globe to create new collages from some of the elements that can be found within its pages.
Conjure a collage using at least two elements from the Collage Magic cut out sheet (second imgae). Combine these ingredients with your own imagery, or use all of these bits to make a new image/s or narrative with the theme of 'magic'.
This competition is open to analog or digital submissions, animations or any other expanded interpretation of 'collage'.
Post the results on Instagram with the hashtag #collagemagichappens or tag me in on your post. I'll repost a bunch via my Instagram throughout June.
And there are prizes!
At the end of June I'll select four winners based on their creative reuse and interpretation of the competition theme. Each will receive a signed, original paper collage from my 2020 series 'Magic Carpets' and a selection of small digital prints from 'The Tarot of the Golden Scissors', along with a special, hard-to-describe-but-definitely-worthwhile personalized and handwritten reading.
A link to the cut-out sheet download can be found in the COMPETITIONS section on my website www.emmaanna.com
I hope you'll take up the challenge" (Source)
By the way: The book cover was given to me a long time ago by "Die Tauschlade" – nothing gets lost – thanks again!