Oft habe ich das Gefühl, dass meine Zeit für Collagen, Kunst und Kultur viel zu knapp bemessen ist und ich kaum etwas zu Wege bringe. Ein Jahresrückblick öffnet mir dann die Augen und zeigt mir, dass das zurückliegende Jahr doch ein sehr ereignisreiches war – 212 veröffentliche Artikel sprechen für sich.
Neben meinen eigenen Collagen, die ich erstellt habe, lag mein Schwerpunkt 2018 auf der Zusammenarbeit und dem Austausch mit Anderen: Die Katalog-Tausch-Aktion mit 44 Künstlern weltweit und das Langzeit-Kollaborations-Projekt "Die ungleichen Zwillinge" habe ich initiiert, zu vielen anderen wurde ich eingeladen (z.B. Art X Mail – ein Projekt von Petra Lorenz, Frank Voigt und Volker Lenkeit – immer wieder eine Freude, dabei sein zu dürfen) oder habe ich weitergeführt. Wie z.B. die 2013 begonnene und fortlaufende Collab mit Lynn Skordal – wir haben dieses Jahr unsere 100. (!) gemeinsame Collage vollendet (der Artikel wird im Januar gepostet).
Auch habe ich 2018
– mich an vier Assembling Boxen beteiligt (Zine in a Box by TicTac Patrizia / KART and  Field Study International by David Dellafiora / Excavations by Svenja Wahl) und
– an zehn Gruppenausstellungen (in Ungarn, Grienchland, Russland, Frankreich, USA und den Niederlanden) teilgenommen und hatte eine Einzelausstellung.
Einige meiner Arbeiten wurden publiziert, z.B. im Magazin der Süddeutschen Zeitung und im Kolaj Magazine.
Etwa 25 Ausstellungen habe ich mir angesehen, oft verbunden mit Tagesausflügen. Besonders beeindruckt haben mich die Ausstellungsreihe "Kunst und Kohle", aber auch Rebecca Horn im Lehmbruck Museum, "Der Berg ruft" im Gasometer Oberhausen, das Hugo Ball Kabinett in Pirmasens, Robert Wilson "the hat makes the man" im Max Ernst Museum, Harald Szeemann in der Kunsthalle und das MUDAM in Luxemburg haben bleibende Eindrücke hinterlassen.
Das Jahr endet mit schönen Ausblicken in das Jahr 2019 – einer davon ist die Artist Residency in Savannah, USA, im Januar. Vier Wochen Schnibbeln und Kleben! Andere anstehende Ereignisse darf ich noch nicht verraten, sind aber in Planung.
In diesem Sinne bedanke ich mich für all die netten und bereichernden (online-) Begegnungen rund um Collagen, Kunst, Kultur und Kreatives und wünsche allen ein glückliches, friedvolles, gesundes und kreatives Jahr 2019.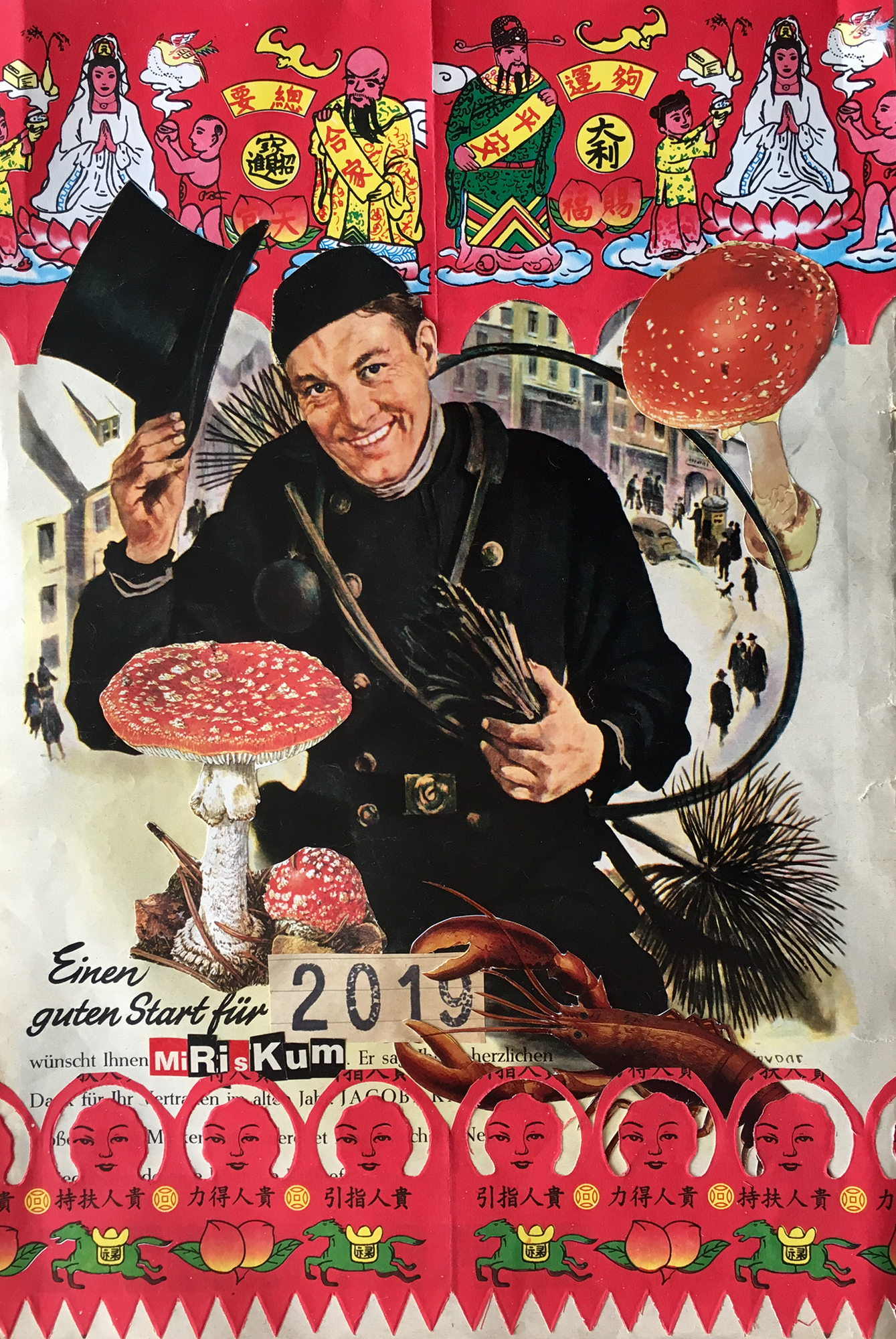 english version:
I often have the feeling that my time for collages, art and culture is far too limited and that I can hardly get anything done. A review of the year opens my eyes and shows me that the past year was a very eventful one – 212 published articles speak for themselves.
In addition to my own collages, which I created, my focus in 2018 was on collaboration and exchange with others: I initiated the catalogue exchange project with 44 artists worldwide and the long-term collaboration project "The Unequal Twins", I was invited to many others (e.g. Art X Mail – a project by Petra Lorenz, Frank Voigt and Volker Lenkeit – always a pleasure to be part of) or I continued ongoing collaborations. For example the collab with Lynn Skordal, which started in 2013 – we have completed our 100th (!) collage together this year (the article will be posted in January).
Also in 2018
– I have been involved in four assembling boxes (Zine in a Box by TicTac Patrizia / KART and Field Study International by David Dellafiora / Excavations by Svenja Wahl) and
– participated in ten group exhibitions (in Hungary, Greece, Russia, France, USA and the Netherlands) and had a solo exhibition.
Some of my works have been published, for example in the magazine of the Süddeutsche Zeitung and the Kolaj Magazine.
I have seen about 25 exhibitions, often combined with day trips. I was particularly impressed by the exhibition series "Kunst und Kohle", but also by Rebecca Horn in the Lehmbruck Museum, "Der Berg ruft" in the Gasometer Oberhausen, the Hugo Ball Cabinet in Pirmasens, Robert Wilson "the hat makes the man" in the Max Ernst Museum, Harald Szeemann in the Kunsthalle and the MUDAM in Luxembourg.
The year ends with beautiful views into the year 2019 – one of them is the Artist Residency in Savannah, USA, in January. Four weeks of snipping and gluing! I'm not allowed to tell you about other upcoming events yet, but they are in the planning stage.
With this in mind I would like to thank you for all the nice and enriching (online) encounters around collages, art, culture and creativity and wish you all a happy, peaceful, healthy and creative year 2019.