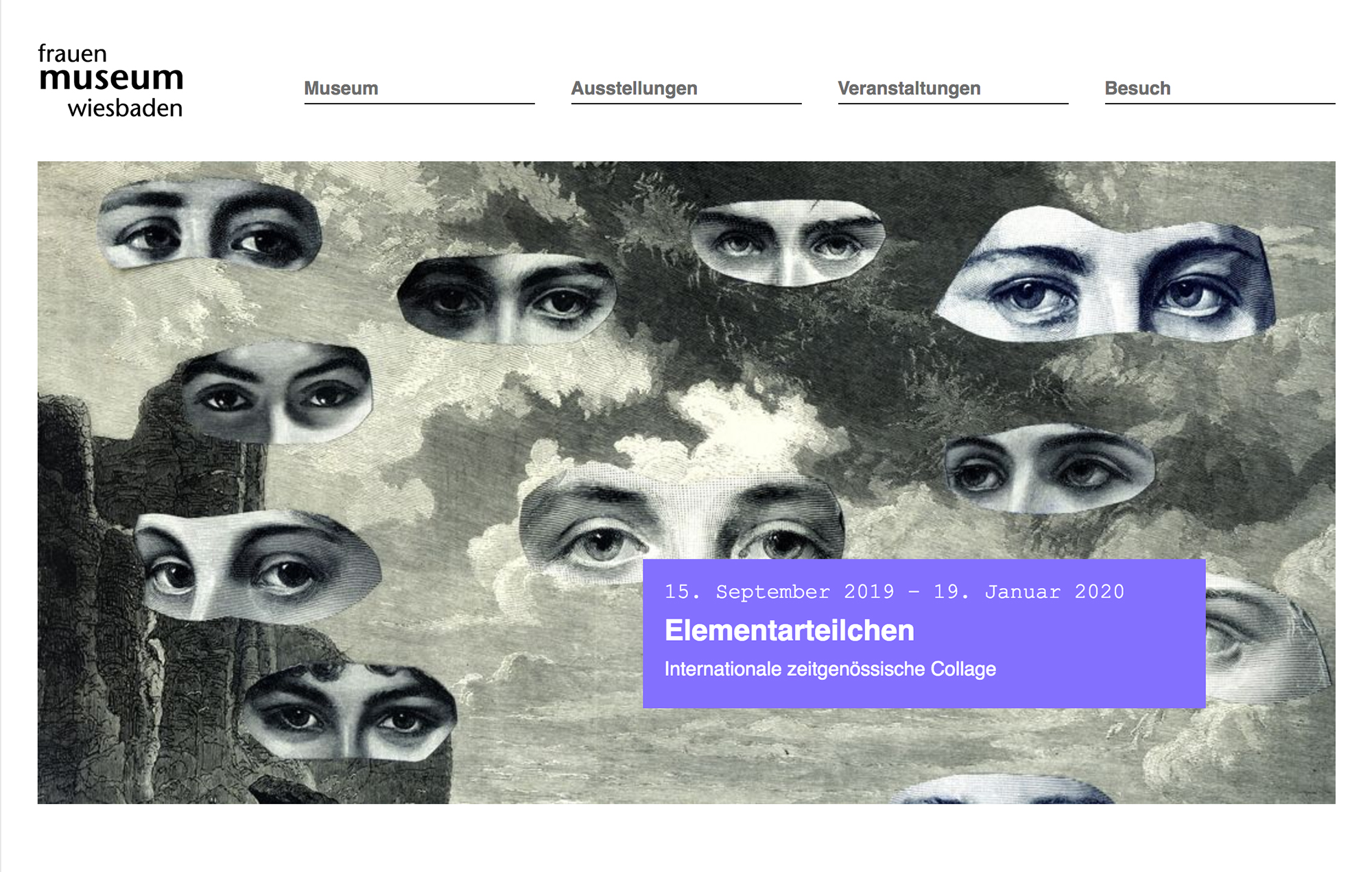 Ich freue mich sehr und fühle mich geehrt, im September diesen Jahres in dieser wunderbaren Ausstellung im Frauenmuseum Wiesbaden dabei zu sein – kuratiert von María Elisa Quiaro Maggiorani.
Vielen Dank Maria für all die Arbeit, die du bisher (und noch) für die Organisation und Durchführung dieser Show geleistet hast!
Die Ausstellung "Elementarteilchen" zeigt Collagen von 13 internationalen zeitgenössischen Künstlerinnen: Maria Eugenia Conde Fernandez,Arianne Cristiel, Olivia Descampe, Rhed Fawell
Clare TwentyMillion, Susanna Lakner, Lane Collage, Susan Lerner, Olga Lupi, Marisa Maestre,Isabel Reitemeyer, Sabine Remy. Ich fühle mich in so einer guten Gesellschaft.
Eröffnung: 15. September 2019, 12 Uhr
(unbezahlte Werbung)
english version:
I am very pleased and honoured to be included in this wonderful exhibition at Wiesbaden Women's Museum in September this year – curated by María Elisa Quiaro Maggiorani.
Thank you very much Maria for all the work you have had so far (and will have) to organise and realise this show!
The exhibition "Elementary Particles" shows collages by 13 international contemporary artists: Maria Eugenia Conde Fernandez,Arianne Cristiel, Olivia Descampe, Rhed Fawell, Clare TwentyMillion, Susanna Lakner, Lane Collage, Susan Lerner, Olga Lupi, Marisa Maestre,Isabel Reitemeyer, Sabine Remy. I feel in such a good company.
Opening: 15th of September 2019, 12 o`clock
(unpaid advertisement)