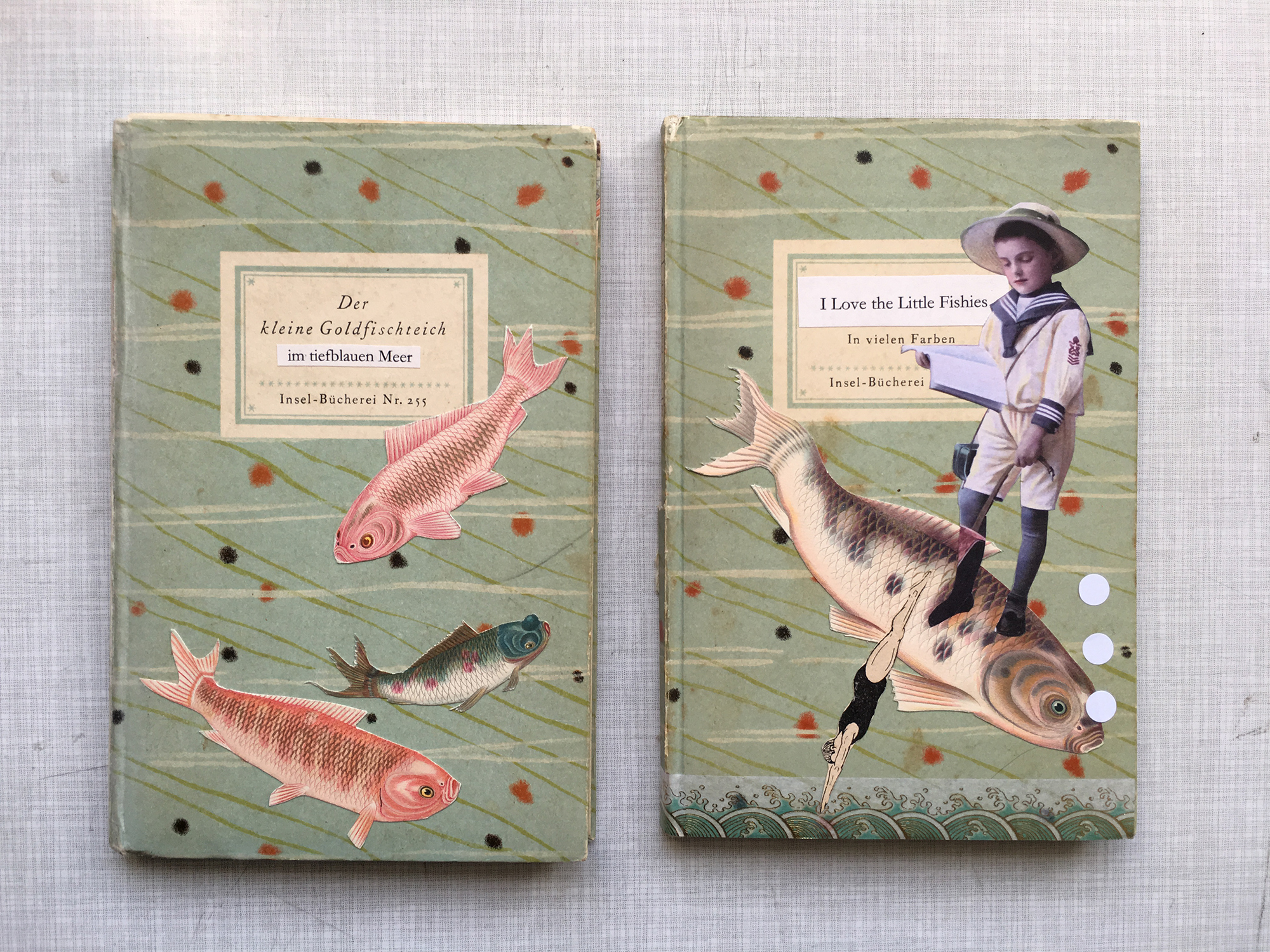 Es ist vollbracht!
Das zweite Buch der Ungleichen Zwillinge mit Lynn Skordal ist fertig und somit das Zwillingspaar vollständig.
Im vorherigen Artikel habe ich den ersten Zwilling gezeigt, von mir gestartet und von Lynn beendet. Hier nun das Buch, das Lynn gestartet und ich fertiggestellt und an sie zurückgeschickt habe (Video und am Ende des Artikels Fotos). Wie hat sie nur diesen wunderbaren Text "Ich liebe die kleinen Fische, jeden Er und Sie. Es gibt keine besseren Spielgefährten im tiefblauen Meer." und all die kleinen Blubberblasen in die Kopfzeile schneiden können? So bezaubernd schön!
Ausgangsmaterial auch hier: Insel Bücherei Nr. 255 – Der kleine Goldfischteich
Das ist der 2. Teil unserer 100. – in Worten: HUNDERTSTEN! – Zusammenarbeit, die wir 2013 begonnen und seit dem kontinuierlich fortgesetzt haben.
Vielen Dank Lynn für all die schönen Collagen und die außergewöhnliche Zusammenarbeit und den wunderbaren Austausch! Das ist etwas ganz Besonderes für mich!
english version:
It's done!
The second book of the Unequal Twins with Lynn Skordal is finished and the pair of twins is completed.
In the previous article I showed the first twin, started by me, finished by Lynn.
Here is the book Lynn started and I finished and sent back to her.
How could you just cut this wonderful text "I love the little fishes, every he and she. There are no better playmates in the deep blue sea." and all the little bubbles into the headline? So enchantingly beautiful!
Source material also here: Insel Bücherei Nr. 255 – Der kleine Goldfischteich
Besides, this is the second part of our 100th – in words: ONE HUNDREDTH! – collaboration, which we started in 2013 and have continued continuously since then.
Many thanks Lynn for all the beautiful collages and the extraordinary cooperation and the wonderful exchange! This is something very special for me!