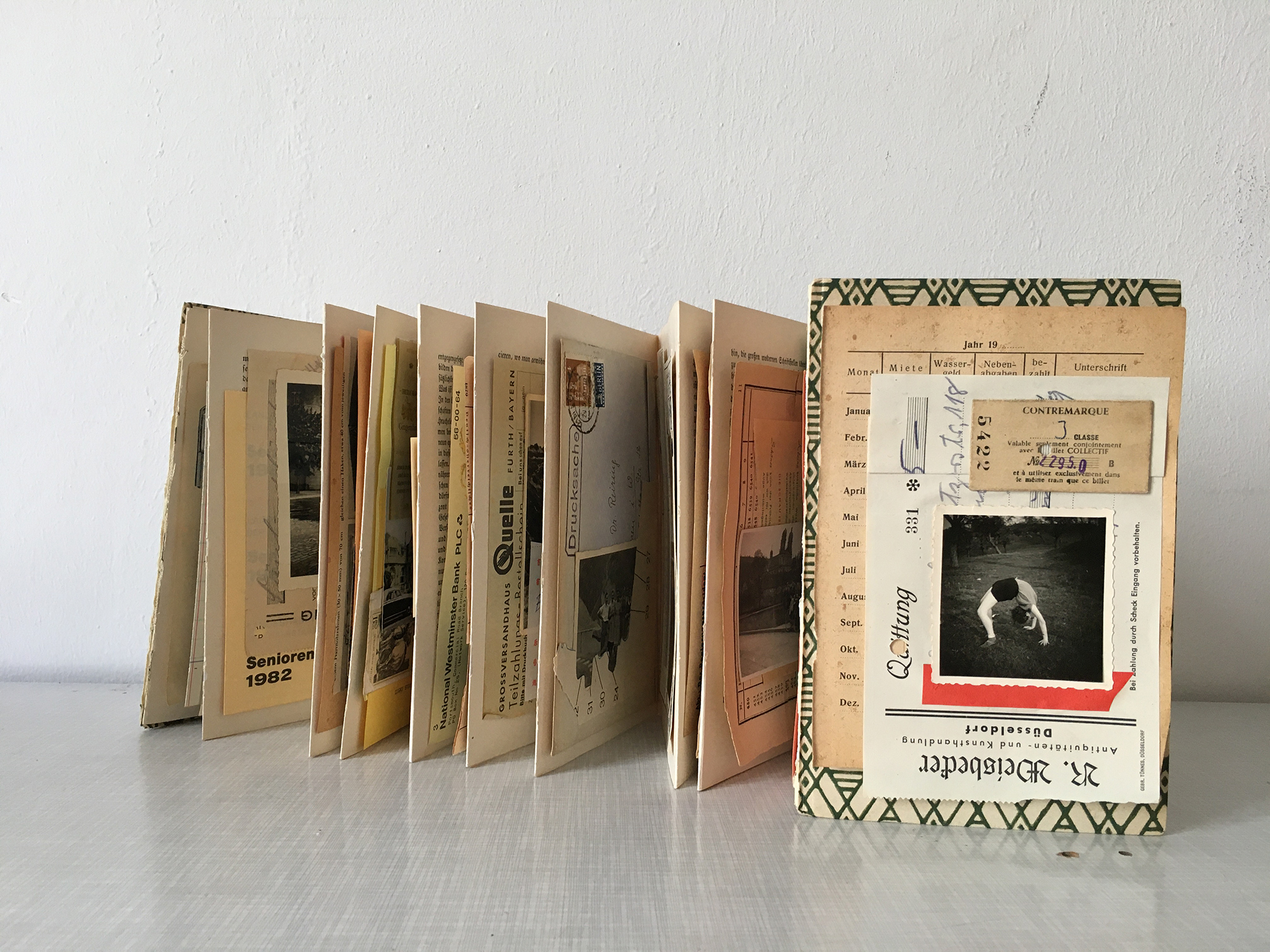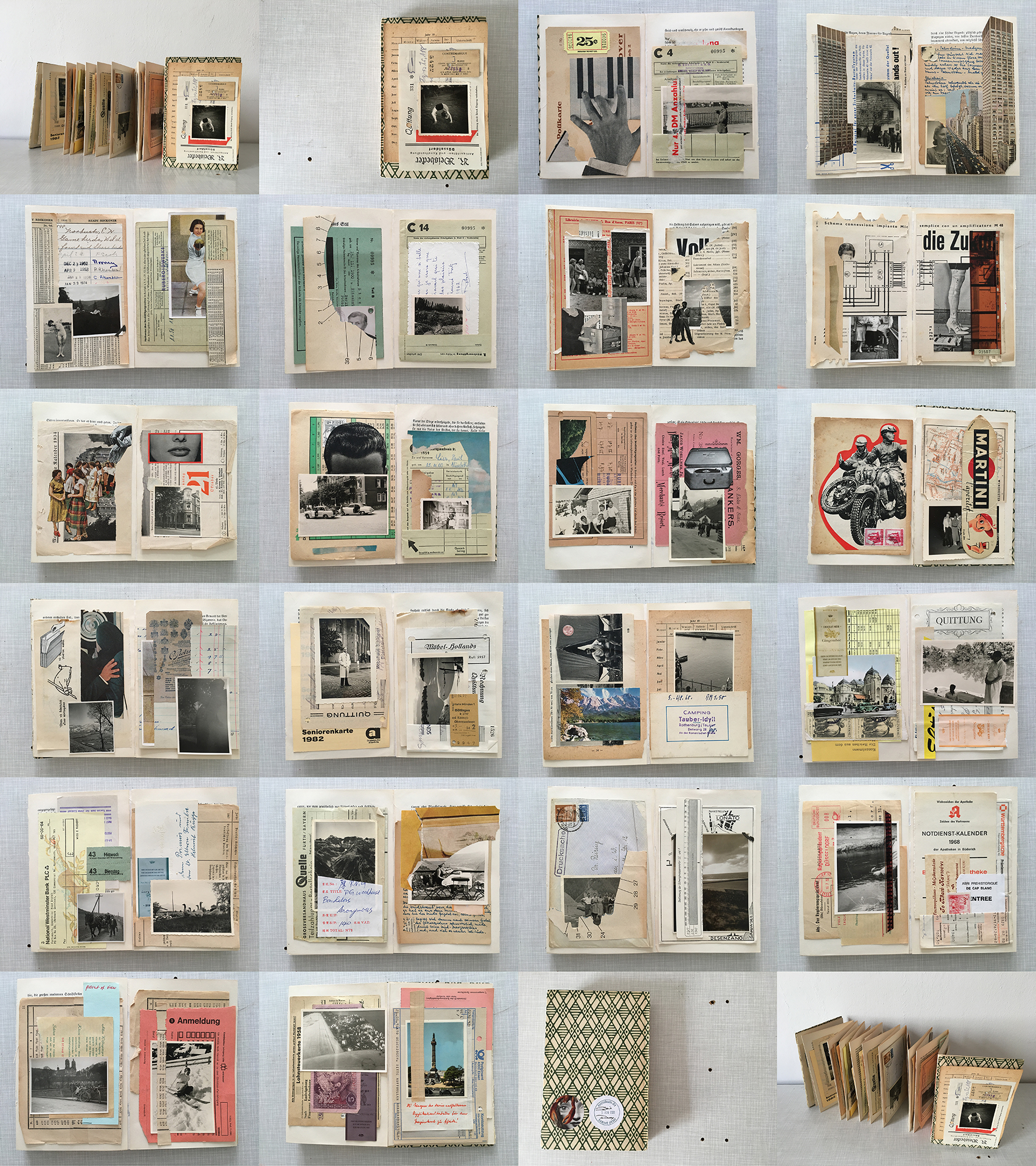 Für den aktuellen Aufruf der Kanyer Art Collection "Finding Love and Transformation in a Book of Collage" habe ich ein Buch der Inselbücherei zu einem Leporello mit 41 original Collagen verarbeitet. Hierfür habe ich meinen Fundus an alten Fotos, meine Lesezeichensammlung, die ich von einem Antiquar geschenkt bekommen habe, und alte Dokumente verwendet.
Nach dem Portfolio sind die Rahmenbedingungen für den Aufruf in Deutsch und Englisch aufgeführt.
english version:
For the current call of the Kanyer Art Collection "Finding Love and Transformation in a Book of Collage" I have processed a book of the Inselbücherei to a Leporello with 41 original collages. For this I used my fund of old photos, my bookmark collection, which I got as a gift from an antiquarian bookseller, and old documents.
After the portfolio are the framework for the call in German and English.
"Liebe und Verwandlung in einem Buch der Collage finden"
Offener Aufruf der Kanyer Art Collection – alle Formen der Collage sind zur Einreichung aufgefordert
SCHLUSSDATUM: 20. Juni 2021
MACHEN: Wählen Sie ein Buch, das Sie lieben oder das Ihr Leben in eine Collage verwandelt hat. Es kann von beliebiger Länge oder Größe sein. Machen Sie Collagen auf mindestens 40 Seiten (oder mehr) des Buches. Es steht Ihnen frei, auch ein leeres Skizzenbuch zu verwenden. Zeitschriften und oder Comics sind für diesen Aufruf nicht zugelassen.
WÄHLEN SIE EIN THEMA: Verwenden Sie eines dieser Themen – Heilung, Transformation oder Liebe. Oder Sie können alle Themen verwenden.
EINSCHICKEN: Um von der Jury berücksichtigt zu werden, posten Sie 10 Seiten auf Instagram aus Ihrem Buch unter dem Hashtag: #fingingloveandransformationwithcollage
TAG and FOLLOW: @kanyerartcollection.
PREISE: Die ausgewählten Top-Collagen erhalten einen Geldpreis in Höhe von 325,00 US-Dollar, der über PayPal ausgezahlt wird, sobald die Collection eine postalische Tracking-Nummer per E-Mail vom Künstler erhält.
BENACHRICHTIGUNG: Die ausgewählten Künstler werden per DM auf Instagram kontaktiert. Weitere Details werden per E-Mail verschickt. Sie werden bis Ende Juni 2020 informiert.
VERSAND: Wenn Sie ausgewählt werden, müssen Sie bereit sein, das Werk in einem gepolsterten, versicherten Karton an die Collection zu schicken. Die Sammlung übernimmt die Versandkosten.
VORAUSSETZUNGEN:
Die ausgewählten Teilnehmer müssen hochauflösende Bilder von jeder Seite ihres Buches mit einer Mindestgröße von 2 MB einreichen.
Diejenigen, die ausgewählt werden, nehmen am Archivierungsprozess der Sammlung teil, indem sie eine Künstlerbiografie, eine kurze Beschreibung des Werks, einen Lebenslauf, Fotos von Ihnen und Ihrem Arbeitsbereich sowie andere wichtige Elemente für die historische Aufbewahrung einsenden.
COPYRIGHT: Die Künstler behalten das Urheberrecht an ihren Werken.
ÖFFENTLICHE BEKANNTMACHUNG: Anfang Juli 2021, wenn nicht früher.
HINWEIS: Mit der Einreichung zu dieser Ausschreibung erteilen die Künstler der Sammlung die Erlaubnis, Bilder des Werks online und in gedruckter Form zum Zweck der Dokumentation der Sammlung und der Arbeit der Sammlung zu reproduzieren. Die Künstler erklären sich damit einverstanden, dass das Werk ausgeliehen und/oder ausgestellt werden kann.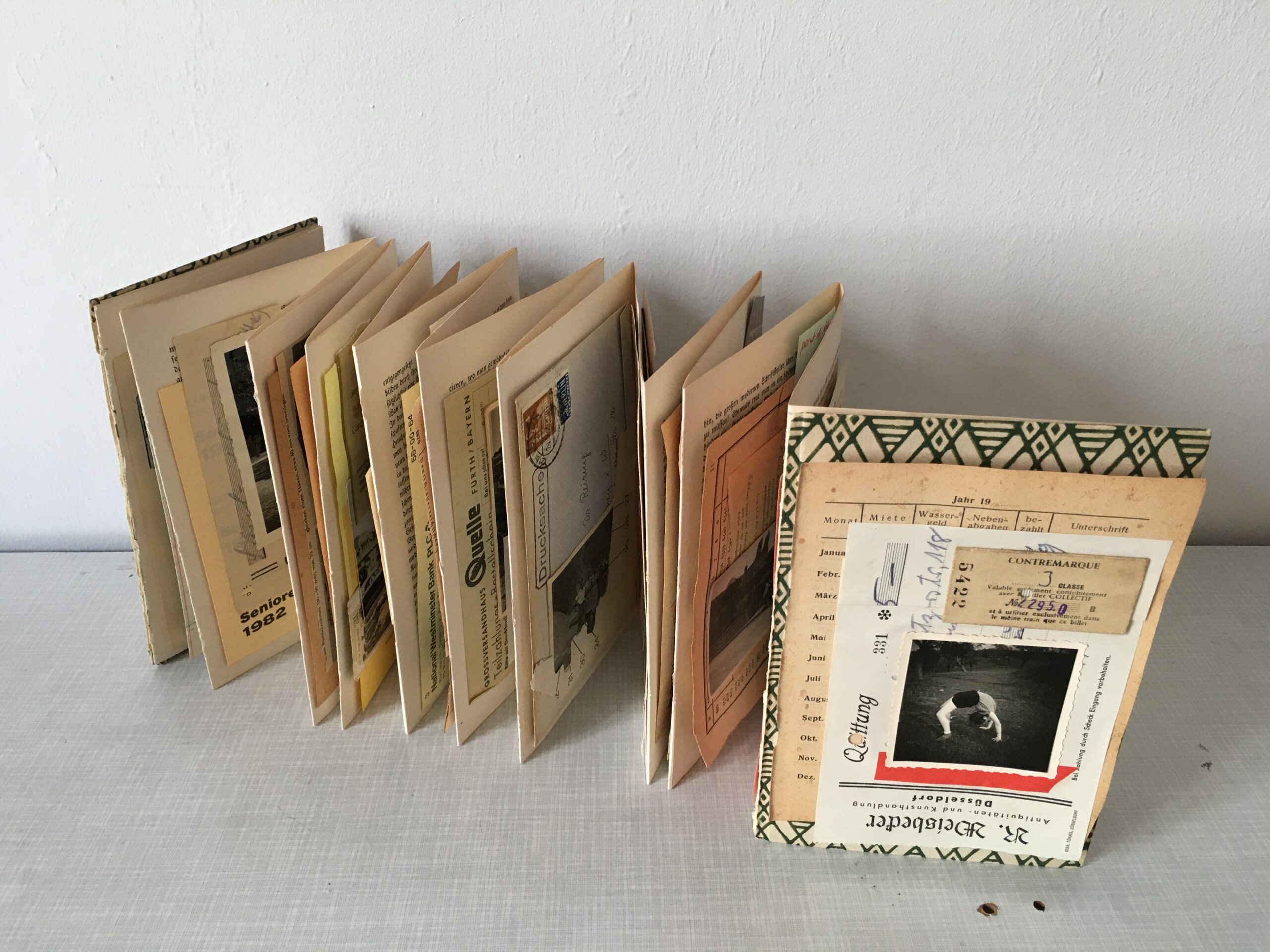 english version:
"Finding Love and Transformation in a Book of Collage"
Open Call by Kanyer Art Collection – all forms of collage are encouraged to submit
CLOSING DATE: June 20, 2021
MAKE: Select a book you love or one that has transformed your life to collage. It can be of any length or size. Make collages on at least 40 pages (or more) of the book. You are free to also use a blank sketchbook. Magazines and or comic books are not permitted for this call.
CHOOSE A THEME: Use any of these themes – healing, transformation or love. Or feel free to use all the themes.
POST: For jurying consideration, post 10 pages from your book to hashtag:
#fingingloveandtransformationwithcollage
TAG and FOLLOW: @kanyerartcollection. Some submissions will be featured during the call.
AWARDS: Top collage books selected will be awarded a cash prize of $325.00 for their book—USD paid via PayPal once the Collection receives a postal tracking number via email from the artist.
NOTIFICATION: The artists selected will be contacted by DM on Instagram. Further details will be sent via email. They will be informed by late June 2020.
SHIPPING: If selected, be prepared to ship the work to the Collection via padded, insured box. The Collection pays shipping cost.
REQUIREMENTS:
Those selected will be required to submit high res images of each page of your book at a minimum of 2 MB.
Those selected will take part in the Collection archiving process by sending an artist biography, a short narrative of the work, CV, photos of you and  your workspace, and other key items for historical preservation.
COPYRIGHT: Artists maintain the copyright to the their art.
PUBLIC ANNOUNCEMENT: Early July 2021, if not before.
NOTE: By submitting to this call, artists grant the Collection permission to reproduce images of the work online and in print for the purpose of documenting the Collection and the work of the Collection. Artists agree to allow the work to be loaned and/or exhibited.