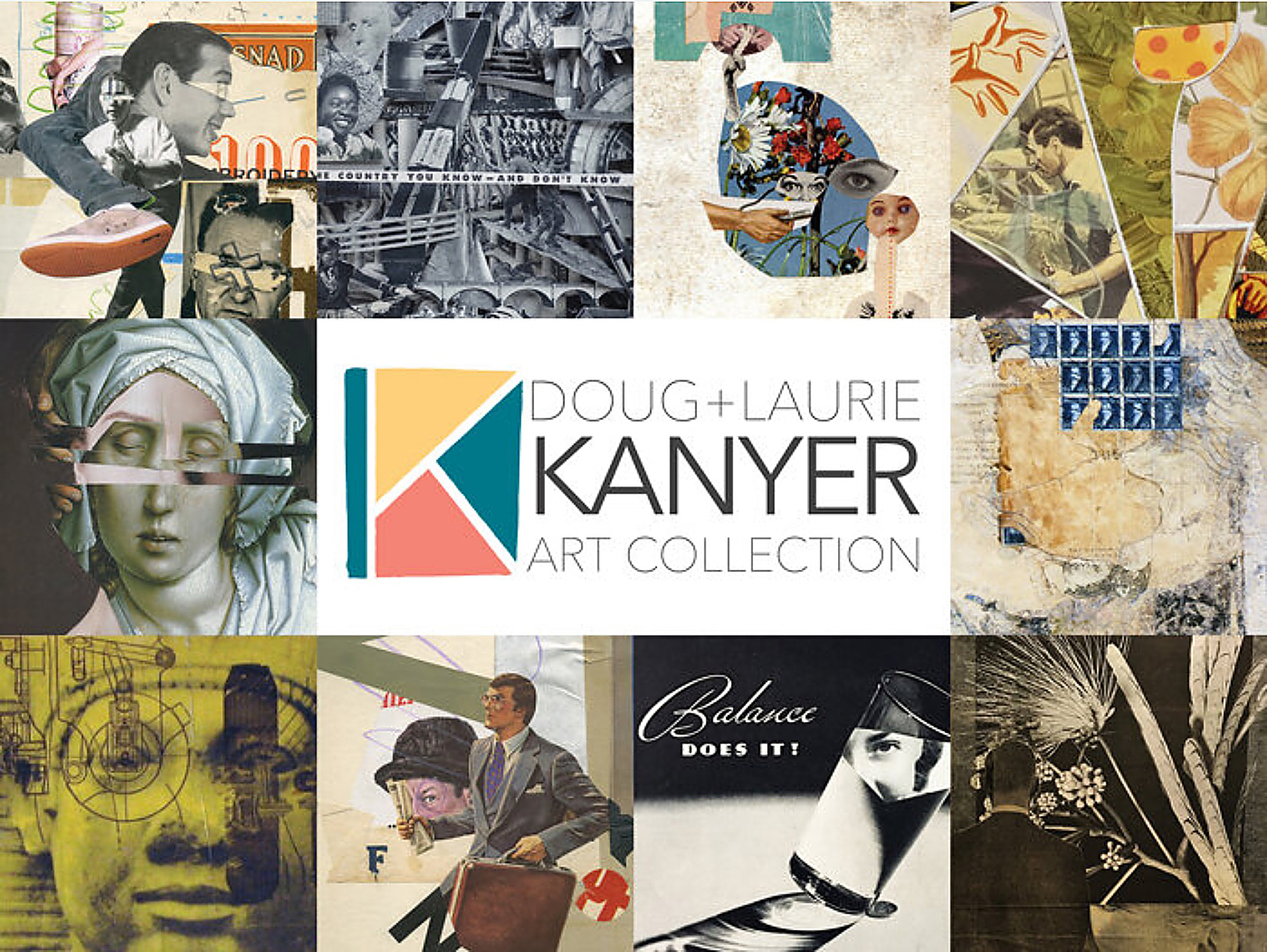 Ich freue mich sehr, dass meine im Mai 2020 entstandene Collage "Einzel Ausgabe / Single Edition", eine analoge Collage auf Papier, jetzt Teil der Doug + Laurie Kanyer Art Collection, Yakima, Washington, USA, ist.
Die Aufgabe der @kanyerartcollection ist es, eine strategische, internationale Kunstsammlung aufzubauen, die den Collagisten von 1980 bis heute gewidmet ist.
(@kanyerartcollection on Instagram and Doug + Laurie Kanyer Art Collection on Facebook)
Dies ist meine Collage: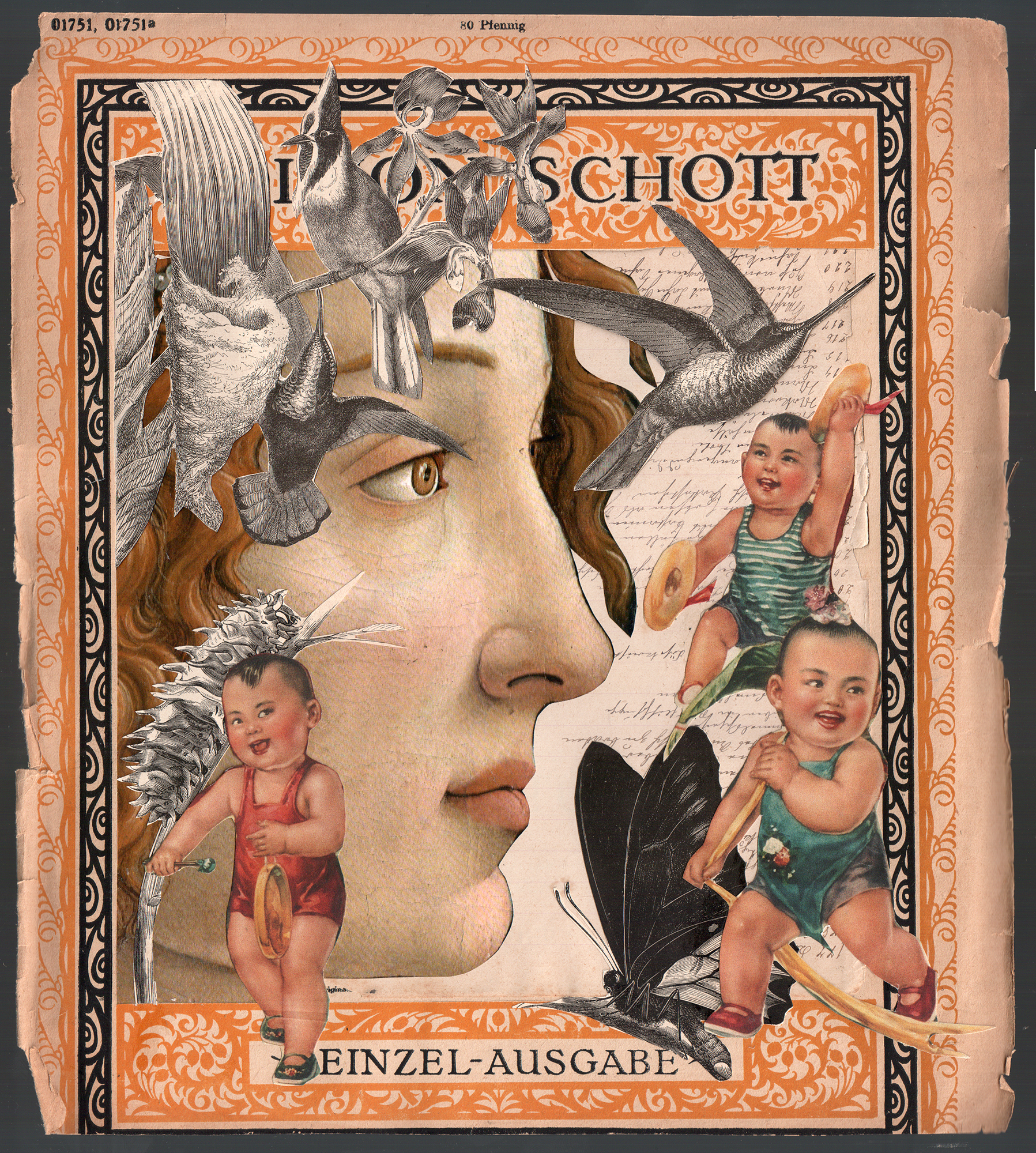 Doug and Laurie Kanyer baten mich, weitere Informationen über die Collage sowie Kataloge, Postkarten und Ephemera (siehe Portfolio unten) zu schicken.
In dieser Collage verwendetes Material:
Die Materialien sind aus einem Zeitraum von 132 Jahren zusammengestellt – alle Materialien sind Originale:
– schwarz-weiße Bildelemente: Meyers Konversationslexikon, 3. Auflage, Leipzig 1876
– handschriftlicher Hintergrund: Sütterlin-Schrift, "Lesezeichensammlung", die ich vor langer Zeit von einem Antiquar geschenkt bekam
– gelb-schwarzer Rahmen: Titelblatt Ouvertürenalbum der Edition Schott, Ouvertüre zur Oper "Der Kalif von Bagdad", ohne Jahreszahl, nach meinen Recherchen erschienen um 1940
– Weiblicher Kopf: Ausschnitt aus "Idealporträt einer Dame" von Sandro Botticelli (um 1475/80) aus einer mir unbekannten Kunstzeitschrift
– Chinesische Kinder: Auszüge aus "Chinesische Propagandaplakate" Taschen Verlag 2008
Kurze Erzählung über diese Collage
Teil meiner Arbeit als Collagekünstlerin ist das Sammeln von Papiermaterialien aller Art: Zeitungen, Zeitschriften, Bücher, Fotos, Ephemera und vieles mehr.
Im Laufe der Jahre habe ich einige gute "Quellen" für mich entdeckt (bestimmte Antiquariate und Flohmärkte) sowie Freunde und Sponsoren, die mir Material geben, von dem sie glauben, dass ich es gebrauchen könnte.
Bereits ausgeschnittene Bilder aus früheren Projekten, die nicht verwendet wurden, sammel ich in thematischen Ordnern: Menschen, Tiere, Gegenstände und Unterordner wie Köpfe, Augen, Münder etc.
In dieser Collage habe ich intuitiv gearbeitet und mich vom Material inspirieren und leiten lassen. Ein solcher Prozess dauert mehrere Stunden, manchmal Tage, und beinhaltet viele Versuche, die verworfen werden, langes Suchen in meinem reichen Fundus – ein lebendiger Prozess des kreativen Handelns, den ich im Folgenden zusammenfassend beschreibe.
Das Ausgangsmaterial war das Titelblatt des Edition-Schott-Ouvertürenalbums (eine kleine Sammlung von Notenblättern, die ich vor dem Altpapiercontainer gerettet habe), dessen Innenseite ich ausgeschnitten und damit einen Rahmen für die Collage geschaffen habe. Ich fügte den Ausschnitt von Botticellis "Idealbildnis einer Dame" hinzu, das ich in meiner Sammelmappe "Köpfe" wiederentdeckt habe, sowie den handschriftlichen Hintergrund aus meiner "Lesezeichensammlung", die ich vor langer Zeit von einem Antiquariat geschenkt bekam, der alle Lesezeichen sammelt, die Kunden in den von ihnen abgegebenen Büchern vergessen haben.
So schuf ich einen Hintergrund für die letzten Elemente, die ich hinzugefügt habe – die chinesischen Kinder und die Schwarz-Weiß-Illustrationen aus Meyers Konversationslexikon.
Dieser Prozess dauerte mehrere Stunden, mit vielen Versuchen mit anderen Bildelementen, die ich immer wieder verwarf, bis ich mit dem Ergebnis zufrieden war.
Wie immer habe ich die Einzelteile erst am Ende zusammengeklebt.
Doug and Laurie Kanyer asked me to send further informations about the collage (below) as well as catalogues, postcards and ephemera (see the portfolio above).
Material used in this collage:
The materials are assembled from a period of 132 years – all materials are originals:
– black and white pictorial elements: Meyer's Conversational Dictionary, 3rd edition, Leipzig 1876
– handwritten background: Sütterlin writing, "bookmark collection", which I got as a gift from an antiquarian long time ago
– yellow-black frame: title page overture album of Edition Schott, Overture to the opera "The Caliph of Baghdad", without year, published around 1940 after my research
– Female head: Detail of "Ideal Portrait of a Lady" by Sandro Botticelli (c. 1475/80) from an art magazine unknown to me
– Chinese children: excerpts from "Chinese Propaganda Posters" Taschen Verlag 2008
Short narrative about this collage
Part of my work as a collage artist is collecting paper materials of all kinds: newspapers, magazines, books, photos, ephemera and much more.
Over the years I have discovered some good "sources" for me (certain antiquarian bookshops and flea markets) as well as friends and sponsors who give me material they think I could use.
Already cut out pictures from previous projects, which were not used, I arrange thematically in folders: People, animals, objects and subfolders like heads, eyes, mouths etc.
In this collage I worked intuitively and let the material inspire and guide me. Such a process takes several hours, sometimes days, and involves many attempts that are discarded, long searching in my rich fund – a living process of creative trade, which I describe in summary below.
The starting material was the title page of the Edition Schott overture album (a small collection of sheet music that I saved from the waste paper container), the inside of which I cut out and thus created a frame for the collage. I added the cut-out of Botticelli's "Ideal Portrait of a Lady", which I rediscovered in my "Heads" collection folder, and the handwritten background from my "Bookmark Collection", which I received as a gift a long time ago from an antiquarian bookseller who collects any bookmarks that customers may have forgotten in the books they handed in.
So I created a background for the last elements I added – the Chinese children and the black and white illustrations from Meyer's conversation encyclopedia.
This process took several hours, with many attempts at other pictorial elements, which I kept discarding until I was satisfied with the result.
As always, I only glued the individual components together at the end.