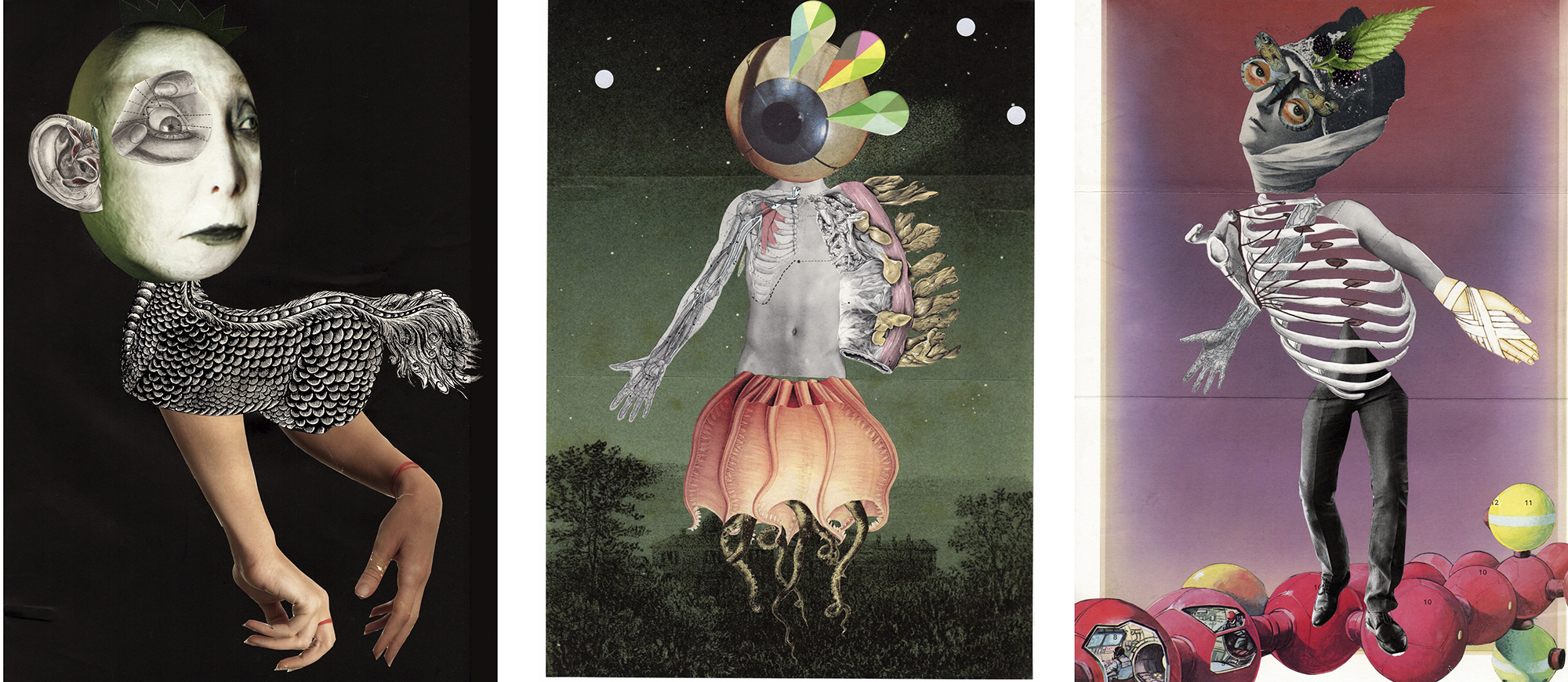 (deutsche Version unten)

Exquisite Corpse – A little theory and a resume:
I made my first Exquisite Corpse together with my collage buddies Lynn Skordal and Josephine . Above and below are six of many from 2016. It was a really good cooperation, which was a lot of fun for all of us.
Contrary to the rules of the group Neo-Exquisite Corpse, (results I posted in the last two articles), and along the original rules, we sent the starters to ourselves hidden/covered – meaning that we didn't see and know what the other one(s) did before – we added our section "blind" – on the background the started one has chosen. To discover the whole result at the end (in the truest sense of the word) was always very exciting!
For me it's very interesting to see how different the results are, depending on whether you're "playing" "covertly" or "openly" – and for me the "covert play" is much more exciting, both during the creation and in the result.
Grant Richter, a contact on Facebook, has recently sent me a link that provides a very interesting theoretical background on Exquisite Corpse. Absolutely worth reading!
A new discovery for me was the hint that it is also possible to play the game musically with synthesizers. Here -> Sound link you can listen to these results.
(Translated with www.DeepL.com/Translator – unpaid advertisement)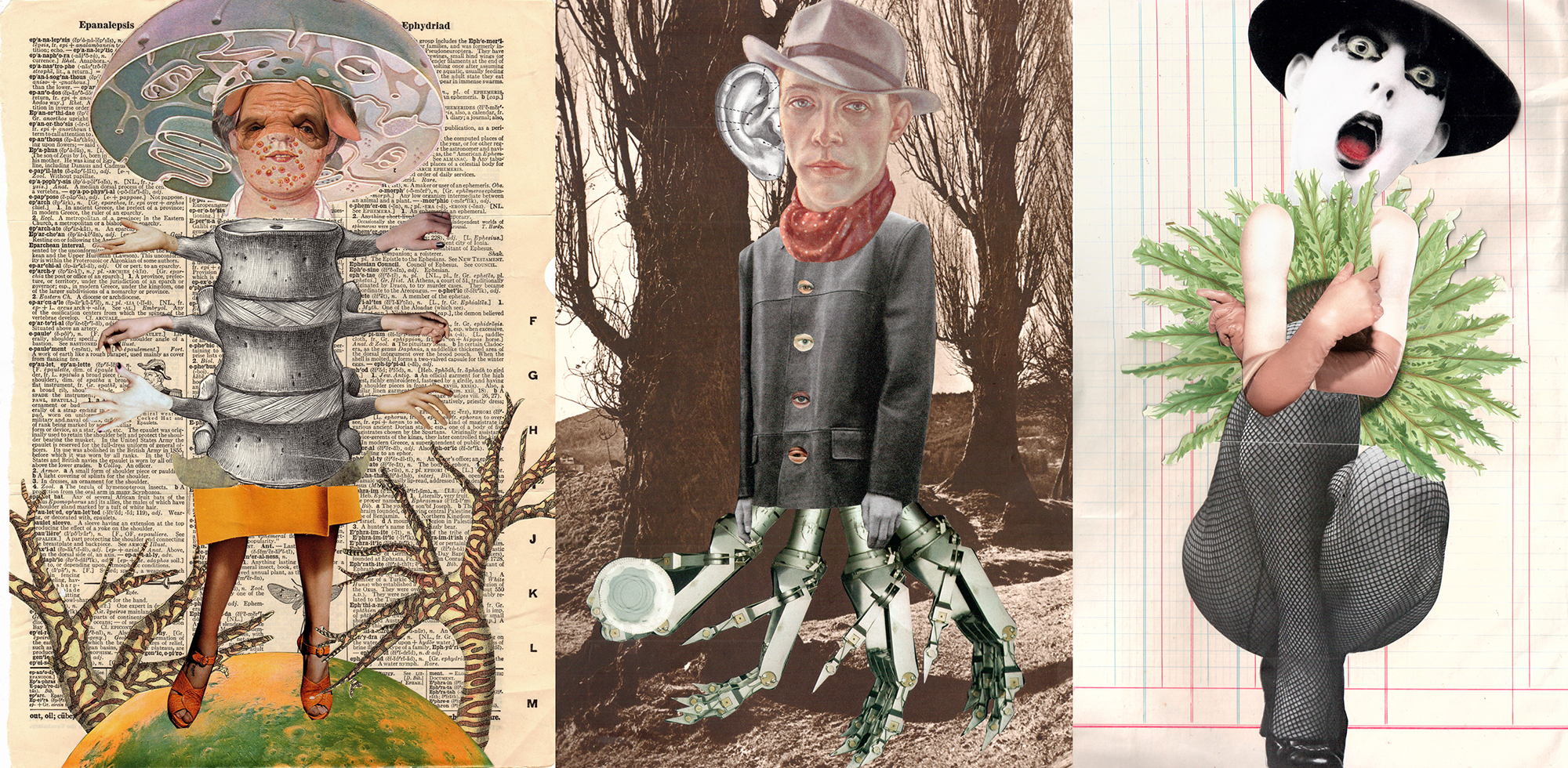 deutsche Version:
Exquisite Corpse – Ein bisschen Theorie und ein Resume:
Meine ersten Exquisite Corpse habe ich zusammen mit meinen Collage Buddies Lynn Skordal and Josephine  gemacht. Oben sind sechs von vielen aus dem Jahr 2016 zu sehen. Es war eine richtig gute Zusammenarbeit, die uns allen sehr viel Spaß gemacht hat.
Entgegen den Regeln der Gruppe Neo-Exquisite-Corpse, (Ergebnisse habe ich den letzten beiden Artikeln gepostet), und entlang der ursprünglichen Regel, haben wir uns die Starter verdeckt zugeschickt – soll heißen, dass wir nicht gesehen haben, was die andere(n) vorher gemacht hat (haben) – wir haben sozusagen "blind" auf einem gemeinsamen Hintergrund unseren Bereich hinzugefügt.  Am Ende das Gesamtergebnis zu entdecken (im wahrsten Sinne des Wortes) war immer sehr spannend!
Für mich ist es sehr interessant zu sehen, wie unterschiedlich die Ergebnisse ausfallen, je nach dem, ob man "verdeckt" oder "offen" "spielt" – und für mein Dafürhalten ist das "verdeckte Spiel" weitaus spannender, sowohl während des Kreierens als auch im Ergebnis.
Grant Richter, ein Kontakt auf Facebook, hat mir kürzlich einen link geschickt, der sehr interessant die theoretischen Hintergründe über Exquisite Corpse darstellt. Absolut lesenswert! (Da der link auf Englisch verfasst ist, ich aber auf meinem Internetbrowser die Möglichkeit habe, den gesamten Artikel übersetzen zu lassen, habe ich davon ein Bildschirmfoto gemacht, was ich für alle Deutschsprachigen hier nun unten poste. Mit einem Klick auf lesbare Größe vergrößerbar ;-))
Eine Neuentdeckung war für mich der Hinweis darauf, dass es auch möglich ist, das Spiel musikalisch, mit Synthesizern zu spielen. Hier -> Sound link gibt es die Möglichkeit, sich diese Ergebnisse anzuhören.
Quelle des unten abgebildeten Artikels