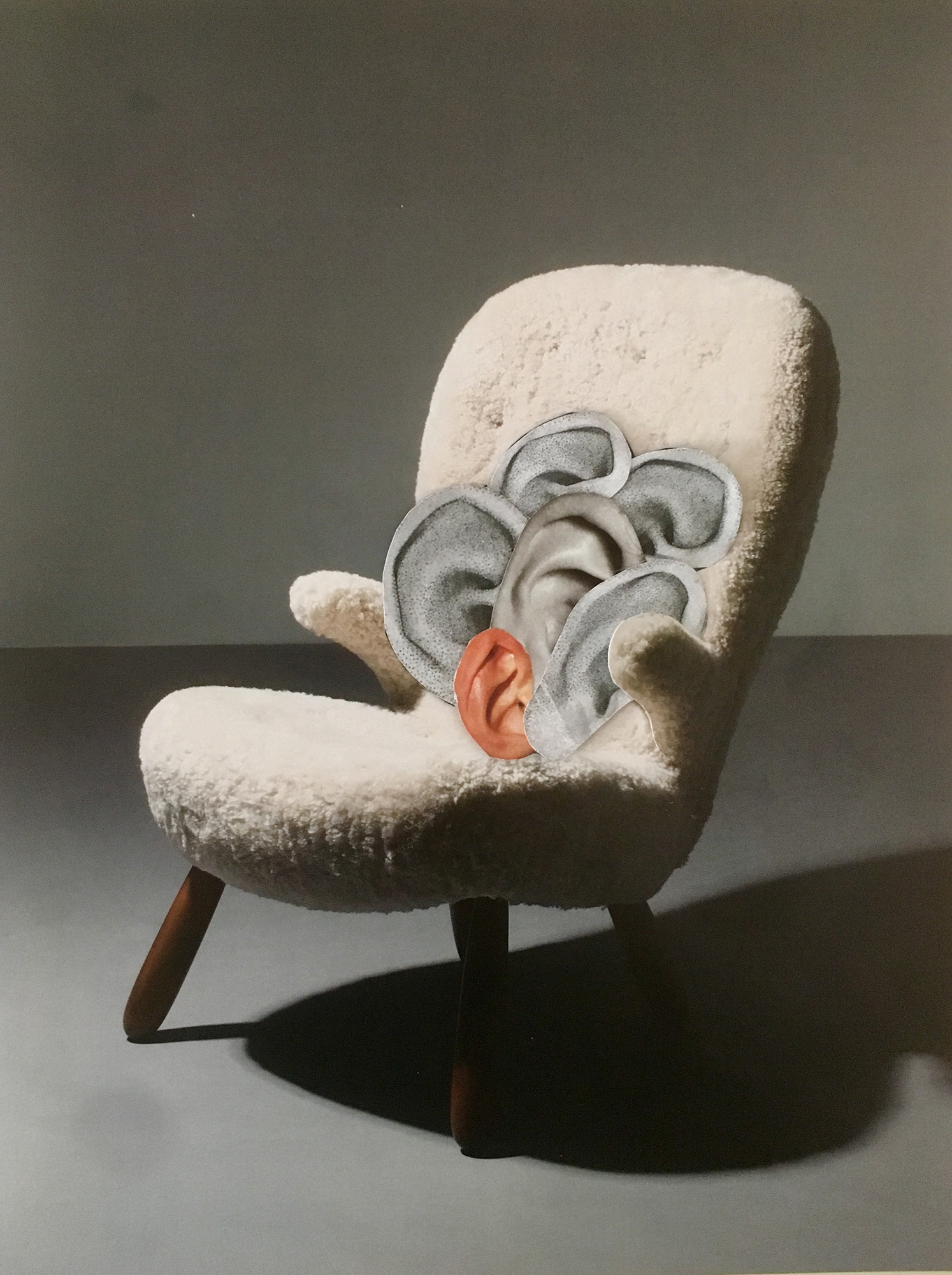 Lets take a rest – Lass und eine Pause machen
Collage 2018 – 28 x 21,3 cm
Diese Woche ist das Thema bei The Kollage Kits: Collage Tagebuch – das mag ich sehr!
Heute ist mein erster Urlaubstag nach einigen harten Arbeitswochen. Eigentlich wollte ich mich ausruhen, so etwas in der Art wie in meinem Sessel sitzen und Musik hören – aber dann……
Ich bin ziemlich früh aufgewacht und zu einem Antiquar gegangen, der viele Kunst- und Designkataloge für mich gesammelt hat. Auf dem Weg zurück nach Hause habe ich noch etwas eingekauft, weil ich Freunde zum Abendessen erwarte und während dessen haben wir die Idee bekommen,  zum ersten Mal einen kleinen Grill zu kaufen. Als wir alle Einkäufe und die Kataloge zu Hause hatten, habe ich festgestellt, dass ich überhaupt keinen Platz mehr in meinem Bücherregal habe – also fing ich an, meine Sachen zu sortieren, wobei ich eine Idee nach der anderen bekam, was ich aus all meinen gesammelten Sachen alles machen könnte. Jetzt sitze ich dann eben doch mal wieder nicht in meinem Sessel sondern in einem großen Chaos zwischen Büchern, Papierschnipseln  – und all den Lebensmittelnl! Es ist erst 16 Uhr nachmittags – und ich weiß nicht, wo dieser Tag enden wird.
PS: Dieser Stuhl wurde von Philip Arctander, 1940 entworfen und im Katalog, den ich heute Morgen vom Antiquar erhielt, steht "Rare variante a haut dossier du fauteuil dit "calm"".
Und das ist sicherlich KEINE Werbung! Nur wegen unserer neuen Datenschutz-Diligence.
english version:
This weeks The Kollage Kit theme is: Collage Diary – and I like it a lot!
Today is my first day of vacation after some hard working weeks. I actually wanted to take a rest, something like sitting in my chair and listening to music  – but than …..
I woke up pretty early and went to an antiquarian who collected plenty of art and design catalogues for me. On the way back home I did some grocery because I am expecting friends for dinner and we got the idea to buy a little barbecue for the every first time. We took the grocery and the catalogues back home,  where I found no place for them in my bookshelf – so I started to sort my stuff and than I got one idea after another what I can create out of it. Now I am sitting in a big chaos between book, paper cutout – and groceries –  – but I am sitting not in my chair! It´s just 4 a.m. and I do not know where this day will end up.
PS: This chair is designed by Philip Arctander, 1940 and the catalogue, which I got from the antiquarian this morning, noted "Rare variante a haut dossier du fauteuil dit "calm""
AND this is certainly NO advertisement! Just because of our new data protection diligence.